Apple cinnamon baked oatmeal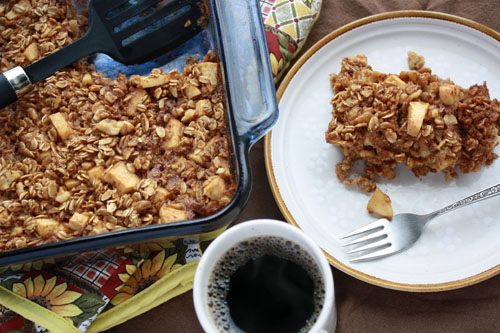 I love eating oatmeal for breakfast, and it wasn't until a recent snow day that I thought to prepare it in the oven instead of the microwave.
Using recipes from Cooking Light and Super Natural Every Day as inspiration, I came up with a vegan version of baked oatmeal that utilizes the local produce Washingtonians have available in winter: apples.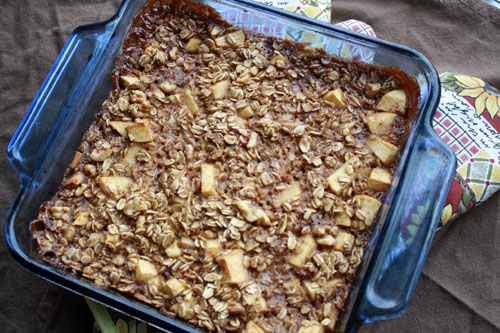 Baked oatmeal is destined to become a weekend staple around these parts. The chewy texture and sweet, nutty flavor of the grains is akin to a healthier fresh-baked oatmeal cookie, and it comes together quickly — sip coffee, catch up on blogs, or do the Sunday crossword puzzle while it bakes.
It also reheats well, so you can munch on leftovers Monday morning while your coworkers enviously slurp the fake-maple instant stuff.
Apple cinnamon baked oatmeal
Ingredients:
2 cups uncooked rolled oats
1/2 cup packed brown sugar
1 apple, peeled, cored and chopped
1 tsp cinnamon
1/4 cup chopped walnuts
1 teaspoon baking powder
salt, to taste (1/4 – 1/2 tsp)
2 cups vanilla soy milk or other vanilla nut milk
1 tbs oil
1 tbs ground flax, mixed in 3 tbs warm water
Cooking spray
Instructions:
Preheat oven to 375 degrees.
Combine oats, sugar, apple, cinnamon, walnuts, baking powder and salt in a large bowl.
Add soymilk and oil; stir to combine.
Stir in flax mixture.
Pour into a greased 8″ x 8″ pan. Bake for about 40 minutes, or until mixture is set.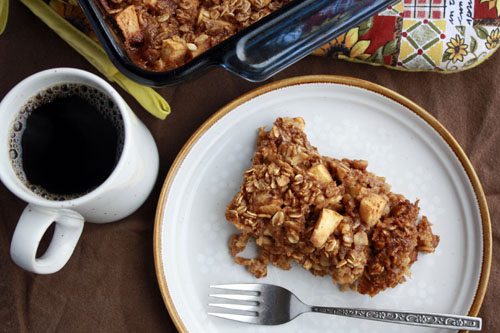 Tags: apple, cinnamon, oatmeal
This entry was posted on Tuesday, January 24th, 2012 at 8:48 AM and is filed under breakfast. You can follow any responses to this entry through the RSS 2.0 feed. Responses are currently closed, but you can trackback from your own site.
2 Responses to "Apple cinnamon baked oatmeal"
Lindsey says:
Subscribe by email:

Topics

Reading List

resources

cruelty-free shopping

МИР ЯВЛЯЕТСЯ ВЕГАНСКИМ! Если ты этого хочешь.