Queso taste test: Food for Lovers, Nacho Mom's, and Nacheez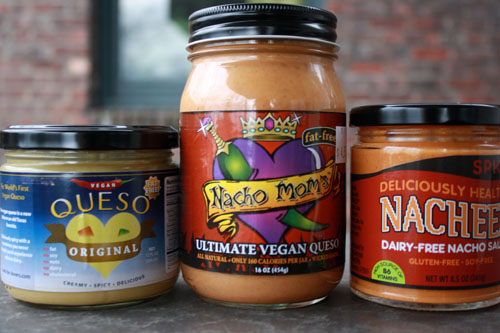 There are quite a few vegan quesos on the market right now, which makes it easier/awesomer than ever to be vegan. I was pleased to see three competing brands in six different flavors at Sidecar for Pig's Peace over the weekend, and bought three jars:
Food for Lovers' vegan queso (which VidaVeganCon introduced me to, and I love)
Nacho Mom's Ultimate Vegan Queso (also in Fire Roasted and Voodoo flavors)
Nacheez vegan nacho sauce, spicy (also in mild)
I learned about 30 minutes later there is a feud going on between a couple of the quesos that extends beyond the grocery shelf.
As I checked Twitter at Chaco Canyon while enjoying a large kombucha and waiting for my sandwich to arrive (after stocking up on queso and other vegan goodies at Sidecar), I saw the following tweet from Quarry Girl:
OH SHIT! SCANDAL! did nacho mom's@veganqueso totally rip off & steal from@foodforlovers? looks like it:https://www.facebook.com/photo.php?fbid=295193767191626&set=p.295193767191626&type=1&ref=nf #teamFF<3
If this is true, and there does seem to be quite a bit of evidence to that point, that was a really crappy move on Nacho Mom's part. Still, I was determined to give each the benefit of the doubt and a fair taste test.
Update: the Facebook post above has been taken down, though is available on Lazy Smurf's Guide to Life. Please also see chef Alana of Nacho Mom's side of things on her website or in her comment below.
It was a really crappy move on my part to take sides or spread rumors based one account, though I haven't changed any of the initial wording in this post. I acknowledge my bias, but maintain that the results of my taste test are fair.
To ensure an impartial trial, I pulled in David, who is impervious to vegan drama. And likes nachos. A lot.
And to make it all scientific-like, David closed his eyes and ate a plain chip and drank a sip of water to cleanse his palate between tastings. All were consumed cold.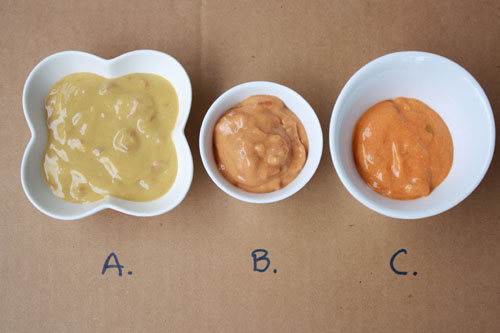 A: Food for Lovers. B: Nacho Mom's. C: Nacheez
Food for Lovers
David tried this first and nodded with approval, saying, "Mmm… it's good." When pressed for why it's good, he replied that it was cheezy, with a little spice.
I, too, quite enjoyed this one. It's creamy without being watery or gelatinous, and is a natural yellow color, with visible chunks of tomato and pepper. It was the spiciest of the bunch, with chili being the dominant flavor, balanced by a mild, savory cheeziness. It's very fresh and sinus-clearing.
Food for Lovers' vegan queso is soy-free and nut-free, but does have wheat. The ingredient list is simple and all-natural, and it's $5.15 for a 12-oz jar, with 20 calories per 2 tbs (12 servings in all).
Nacheez
David's immediate first reaction to this was of disgust. He described it as having a sweetness that doesn't taste like queso, and definitely not as spicy or thick as Food for Lovers' queso. However, he noted that it is edible.
I didn't pick up the same sweetness (roasted red pepper is the second ingredient, so I can see where it comes from) or disgust, but agree that it's rather bland — definitely not spicy and without the umami richness of the other two, though I liked the flavor. The texture is a little jiggly. It's also a day-glo orange color, which turns me off a little, though there is no food coloring added.
Nacheez is free of soy and gluten, but does have cashews. It has the longest list of ingredients of the three, though none are crazy or artificial, and is the priciest: $6.25 for 8.5 oz, with 20 calories per 2 tbs (7 servings in all).
Nacho Mom's
David found this to be middle of the road: a bit of sweetness, but not as much as Nacheez's, and also not spicy, but thicker than the others.
Nacho Mom's really isn't all that spicy (again, I didn't taste the sweetness David perceived at all), but has a nice hint of smokiness, probably from paprika — it's quite tasty. The only downsides are that it's a little gelatinous if not stirred and is an odd pinkish-orange color, with many big chunks of tomato (the chunks of tomato not being a downside; just an observation)
The ingredient list is straightforward and basic, with tomato as the first ingredient — no surprise there, based on the flavor and appearance. It's also soy and nut free, but has wheat. At $4.75 for 16 ounces, it's the most cost-effective. It's also the most calorie-effective: only 10 calories per ounce, making the whole jar only 160.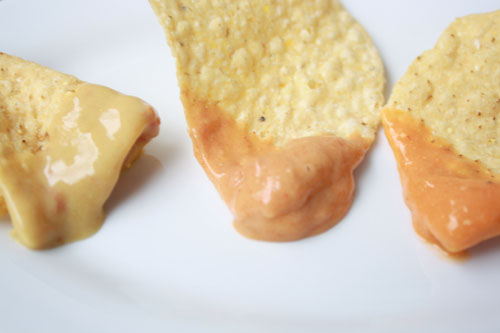 L to R: Food for Lovers, Nacho Mom's, Nacheez
The winner:
Food for Lovers — the spiciness and mellow cheeze flavor make it stand out. David said he would eat this first, with plain chips being his second choice; I would order it Food for Lovers, closely followed by Nacho Mom's and then Nacheez.
However, I don't regret having open jars of any of them in the fridge, and will happily eat Nacho Mom's and Nacheez on baked potatoes and steamed broccoli while David munches on tortilla chips dunked in Food for Lovers. Plus, Nacheez is a great option for the gluten-free vegans out there.
I wanted to hate Nacho Mom's queso based on what I had read, but really didn't — the recipe is different enough from Food for Lovers that, even if it is a rip-off, it's just another option on the market, and it's pretty tasty. Still, I'll stick with Food for Lovers queso — it's delicious, David likes it best, and the founders, a young married couple from Texas, are just too cute.
Tags: Food for Lovers, Nacheez, Nacho Mom's, queso
This entry was posted on Monday, December 19th, 2011 at 10:03 AM and is filed under dips/spreads, packaged food/products. You can follow any responses to this entry through the RSS 2.0 feed. Responses are currently closed, but you can trackback from your own site.
7 Responses to "Queso taste test: Food for Lovers, Nacho Mom's, and Nacheez"
Alana--Nacho Mom's says:
Helen says:
Andrea says:
Helen says:
Alana--Nacho Mom's says:
Jes says:
Helen says:
Subscribe by email:

Topics

Reading List

resources

cruelty-free shopping

МИР ЯВЛЯЕТСЯ ВЕГАНСКИМ! Если ты этого хочешь.