2011: a vegan year in review
It seems like many pivotal events happened in the vegan world in 2011; veganism is becoming more and more mainstream every day.
Just look at what Google Insights for Search has to say: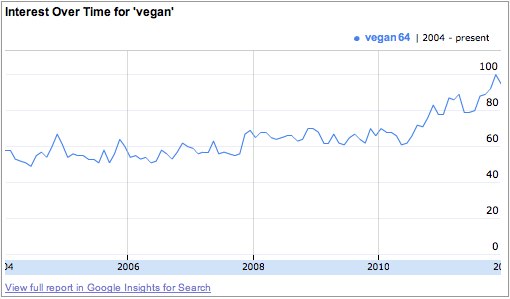 Look at that line go up!
Here are some stories of 2011, in no order other than the one I remembered/found them in, that I thought were most significant or interesting.
Want more? Vegan Soapbox has short videos from HSUS, Mercy for Animals, and PETA on their top events of the year. Ecorazzi has the top 10 celebrity vegan events of the year. VegNews lists 2011's top veg trends.
What do you think were the most significant events in veganism this year?
Tags: year in review
This entry was posted on Friday, December 30th, 2011 at 9:21 AM and is filed under news. You can follow any responses to this entry through the RSS 2.0 feed. Responses are currently closed, but you can trackback from your own site.
6 Responses to "2011: a vegan year in review"
Dee says:
Helen says:
FoodFeud says:
home and garden design says:
glass flowers says:
Subscribe by email:

Topics

Reading List

resources

cruelty-free shopping

МИР ЯВЛЯЕТСЯ ВЕГАНСКИМ! Если ты этого хочешь.