Whole Foods Taste: a Thanksgiving preview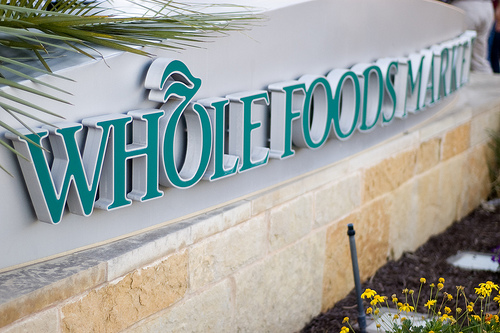 image by bookgrl via Creative Commons — not in Seattle
Thanksgiving can be challenging for vegans. And by "can be," what I really mean is "is always."
The entire holiday is centered around the killing and eating of a specific bird, so it's pretty obviously not a holiday that vegans truly can embrace. Technically, Thanksgiving's purpose is to show gratitude and thanks, which I am all for, but saying that Thanksgiving isn't about turkey is like saying Christmas isn't about consumerism. Lies!
Never are our values and dietary habits more apparent than when we pass on the turkey, and by that time in the afternoon some family member will have had enough liquor to openly poke fun at our beliefs.
Yep, Uncle Ed, I'm still doing that weird cult thing, and nope, Aunt Mary, I don't care how long you spent making that egg-filled pie — I'm not eating it.
Plus, the prospect of preparing plant-based meals for crazy vegan guests can intimidate our hosts and cause friction in relationships.
So what does that all have to do with this post? Thanksgiving ideas and product reviews.
Lisa works at a PR firm that does a lot of work with Pacific Northwest Whole Foods stores, and invited me to a Thanksgiving preview at the Interbay Whole Foods last week; Lisa and I pretty much switched lives last year — she quit her job teaching lawyers how to use the internet to go work with food bloggers and enroll in the MCDM program at UW, while I graduated with an MCDM degree then quit my internship working with food bloggers to go teach lawyers how to use the Internet.
The event brought in foodies and bloggers to showcase Whole Foods Thanksgiving offerings, and I liked what I tasted, so I'm writing my honest opinion. They're also having a tasting event tonight, with proceeds from the $5 suggested donation going to Solid Ground.
I was impressed with the buffet Whole Foods served: mashed potatoes made with cashew cream (BRILLIANT idea — must replicate), mushroom gravy, farro pilaf, a seasonal fruit/nut salad, two kinds of cranberry sauce (the healthier, less-cooked relish-y one made with orange being far superior to the sugary stewed variety), and a couple of kinds of pumpkin pie, one more-or-less raw and the other rather traditional, complete with soy whipped cream.
Buffet — camera focused on the flowers more than the food, apparently.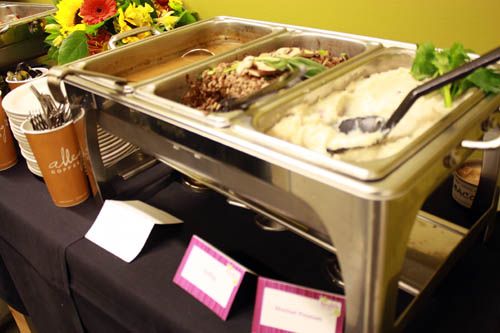 The meal: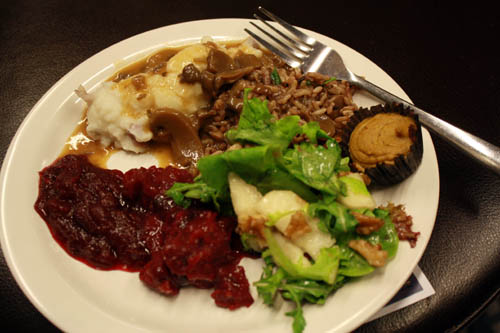 Healthy pumpkin pie: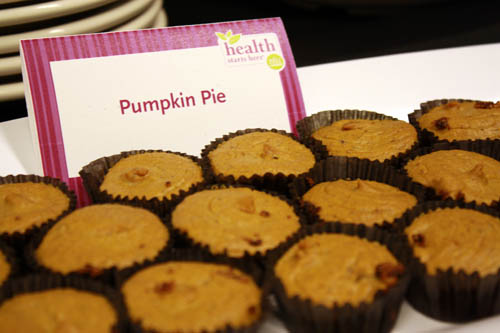 Traditional pie with soy whip: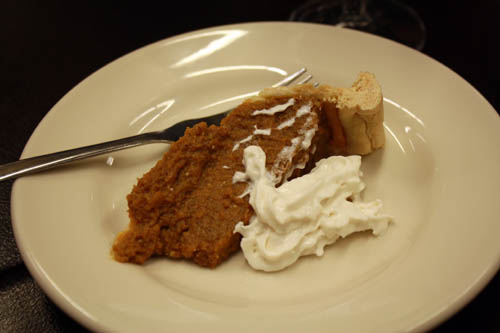 Now, as a caveat, I'm not generally a proponent of outsourcing holiday meals — homemade with love is (usually) best, and there are a plethora of delicious recipes out there: Blissful Bites and Tofu Mom have wonderful recipes for gravy, Fat Free Vegan Kitchen has an awesome-looking green bean casserole, and Soundly Vegan has tons of Thanksgiving inspiration. I'm not quite as ambitious as M.E, who makes her own tofurkey, but Field Roast's puff pastry-wrapped celebration loaf is generally the only thing I'll buy (this year's loaf has been sitting in my parent's freezer for a month).
However, we don't always have the option to make a T-day (tofurkey day, that is) meal from scratch.
You may find yourself in one of the following situations:
your family is absolutely baffled at what to cook for you
you're traveling and don't have access to a kitchen but still want to contribute to the meal
you belong to one of those irritatingly stubborn families that insist that guests don't bring anything then ask if you're cool with just eating fake meat in the sauce it came with and salad (so you want to pick up something anyhow without offending them by trying to one-up them with something homemade)
you just don't have room in your tiny apartment to prepare a feast but still want to entertain
In which case I would fully endorse Whole Foods' offerings.
I left the event with a generous swag bag containing the following: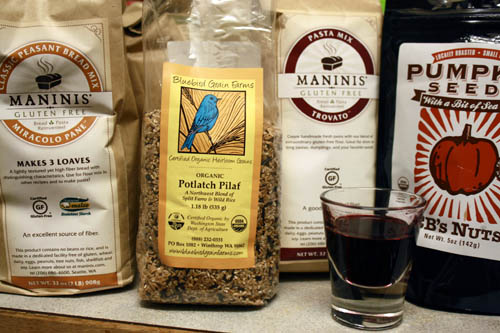 CB's Nuts pumpkin seeds are amazing — two very enthusiastic thumbs up. CB apparently soaks them in sea salt before roasting them, resulting in the ideal level of saltiness. Denise Breyley, the Whole Foods staffer leading the session, raved about them, and I could not agree more. A great discovery.
Denise also had very positive things to say about Manini's gluten-free baking mix — "great for everyone." I baked up a loaf using the all-purpose blend, and it ended up flat and overly chewy, though still relatively tasty. As a diehard fan of wheat, I'm probably not the best judge of Manini's offerings, so I'm going to give the other two bags that came home with me to a couple of gluten-free friends for their review.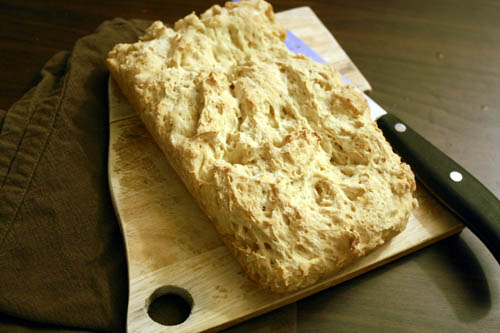 I love Bluebird grain farm's farro, and excitedly cooked up a mushroom pilaf using more or less the recipe on the back of the Potlatch Pilaf bag. I like the contrast between the softer farro and the crunchier wild rice.
Finally, Finn River black current apple brandy.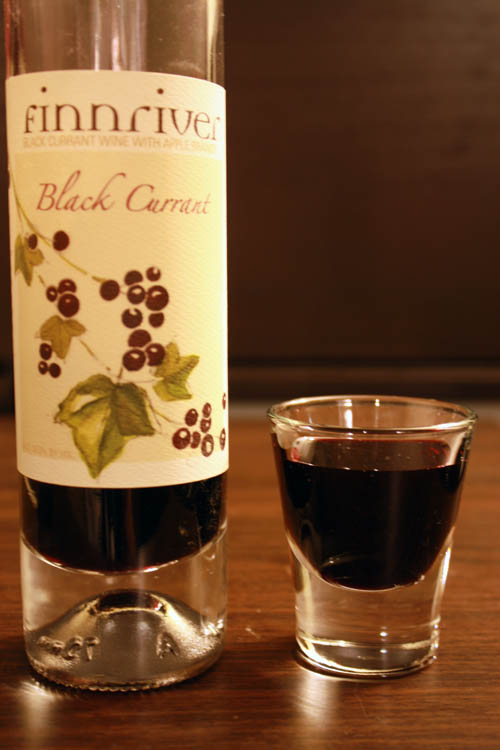 Tart, sweet, thick but not syrupy — delicious. Denise suggested to pour it over ice cream, mix it with seltzer, or just drink it plain. I drank it plain.
Because the Interbay Whole Foods store is kinda the most amazing place on earth (not really, but it's massive and has a selection you won't find at other natural foods stores) I did a little shopping after the event and picked up some Whole Foods deli mushroom gravy and Gardein Savory Stuffed Turkey with gravy.
Here they are with my mushroom pilaf: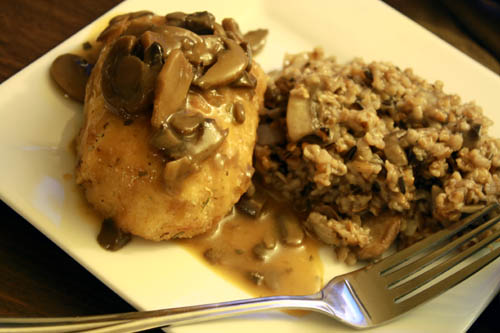 I wasn't a huge fan of the gravy that came with the Gardein (it had a dirt-like rosemary flavor), but the cutlets were good topped with the Whole Foods mushroom gravy instead and would probably be even better topped with the mushroom gravy from Blissful Bites. David found them to be eerily similar to real meat, and the stuffing on the inside was fun. No celebration loaf, but definitely edible.
So, put them all together (plus roasted brussels sprouts) and you have Helen's Whole Foods-inspired Thanksgiving feast (minus cashew cream mashed potatoes — which I will be making, oh yes):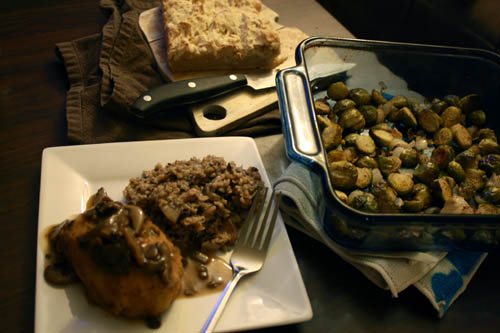 So, in conclusion, make what you can, but don't be afraid to ask for help.
This entry was posted on Thursday, November 10th, 2011 at 9:46 AM and is filed under packaged food/products. You can follow any responses to this entry through the RSS 2.0 feed. Responses are currently closed, but you can trackback from your own site.
2 Responses to "Whole Foods Taste: a Thanksgiving preview"
Jes says:
Lisa says:
Subscribe by email:

Topics

Reading List

resources

cruelty-free shopping

МИР ЯВЛЯЕТСЯ ВЕГАНСКИМ! Если ты этого хочешь.