What I'm cooking for Thanksgiving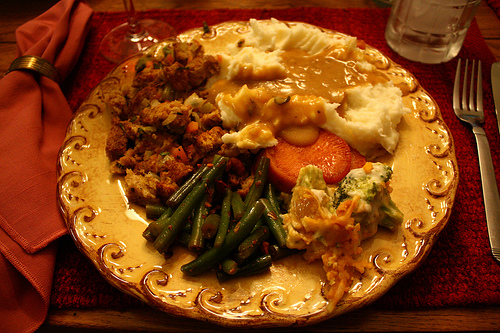 David and I are hosting a vegan Thanksgiving dinner for a few non-vegan (but veg tolerant) friends this year.
Here's the menu:
There are a lot of delicious-sounding recipes out there. If you're looking for gluten-free/soy free vegan Thanksgiving options, Ashley at Freshly Vegetarian curated a great list. VegWeb has more vegan Thanksgiving ideas, as does the New York Times. Really, just do a Google search and you'll come up with tons of inspiration – it's never been easier to serve a vegan Thanksgiving meal.
image by Tyler Love via Creative Commons
This entry was posted on Sunday, November 20th, 2011 at 2:17 PM and is filed under Holiday. You can follow any responses to this entry through the RSS 2.0 feed. Responses are currently closed, but you can trackback from your own site.
2 Responses to "What I'm cooking for Thanksgiving"
Samantha says:
Richa@HobbyandMore says:
Subscribe by email:

Topics

Reading List

resources

cruelty-free shopping

МИР ЯВЛЯЕТСЯ ВЕГАНСКИМ! Если ты этого хочешь.