Rainbow unicorn cupcakes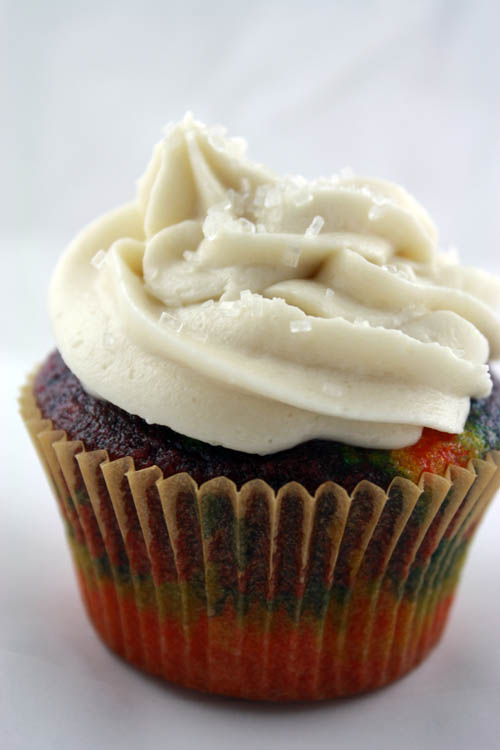 Not so legal disclaimer: these cupcakes contain a lot of food coloring. I don't typically use much food coloring because it is probably carcinogenic, but it was the perfect medium to fulfill this particular (though not especially unique) culinary — nay, artistic — vision.
A PPK forum says that Wilton food coloring is vegan, so I went ahead with baking them, though I read yesterday on Your Daily Vegan that food dyes are tested on animals; YDV gives coloring alternatives for those who don't want the toxicity or cruelty of artificial colors.
The sparkling white sugar sprinkles I used are almost definitely not vegan, but I've had these sprinkles for years, and the folks I baked these cupcakes for don't care or know the difference.
Okay, here's the post. Conclude explanation of potential non-vegan-ness.
***

To say that my ultimate frisbee team has a losing streak is like saying factory farms are bad — definitely true, but also quite an understatement. They let me on the roster, after all.
The last game we won was against a team playing down a player — and even that was a close score.
During halftime of one such losing game, Anna, a spunky Brit with a quick, quirky sense of humor, stated that we were no longer Tsunami: we were the Unicorns. And unicorns don't lose.
We still lost, but silly as the premise was, we definitely played better as unicorns than as Tsunami. [Maybe it's karma? (The team has had the name for years)]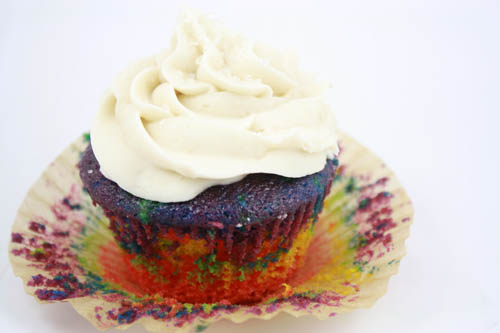 To pump us up before our game this past weekend, I made unicorn cupcakes. They originally had fondant horns, but these soft frosting didn't hold them upright, and then the fondant started to droop, and they just looked kinda, ummm, inappropriate. But the rainbow still makes them unicorny.
When I was a kid, my mom told me that food coloring would dye your insides. If there's any truth to that, these cupcakes will turn your stomach lining the color of Capitol Hill during Pride.
Also, any kindergartener will tell you that my rainbow cupcakes aren't truly ROY G BIV — there isn't an orange layer. Or an indigo one. It's best to keep it simple.
Start with the Golden Vanilla Cupcakes from VCTOTW (with lemon extract)

Divide into 5 bowls and add food coloring to each.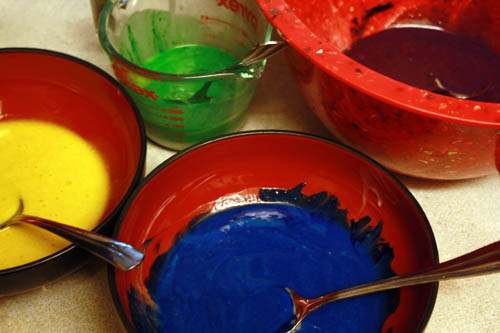 Red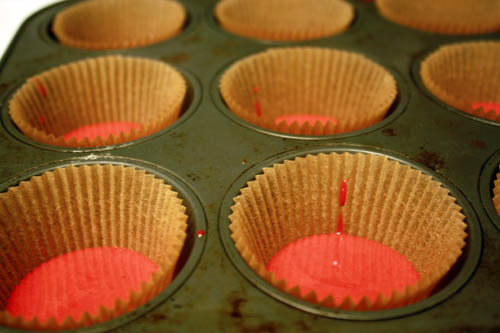 Yellow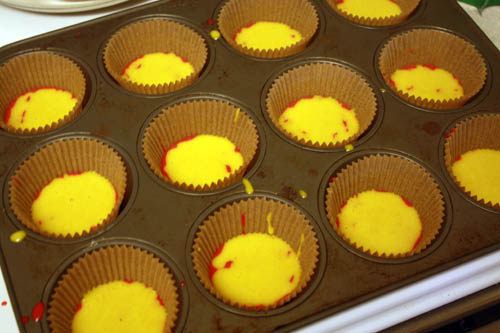 Green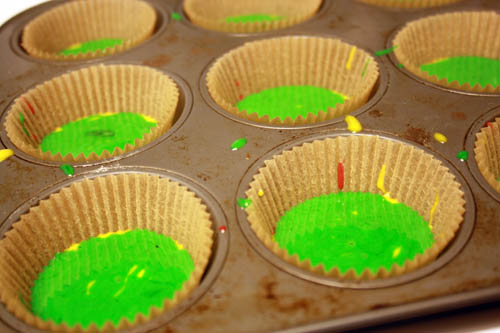 Blue
Purple
Add VCTOTW's fluffy buttercream (with coconut extract)

And… magic.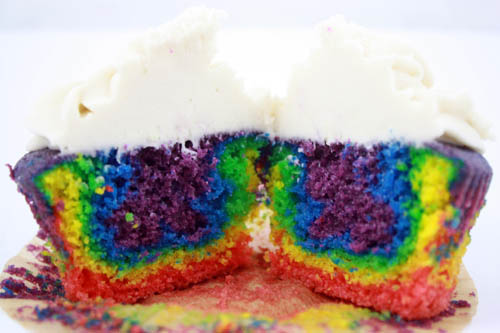 If you don't want to tie-dye your insides quite as much (but still want all the unicorn magic), Kelly at Vegan Cookie Connoisseur made a rainbow unicorn cake with rootbeer-flavored layers!

Tags: cupcakes, food coloring, Vegan Cupcakes Take Over the World, veganmofo
This entry was posted on Wednesday, October 19th, 2011 at 8:30 AM and is filed under cake. You can follow any responses to this entry through the RSS 2.0 feed. Responses are currently closed, but you can trackback from your own site.
12 Responses to "Rainbow unicorn cupcakes"
Jeni Treehugger says:
Jes says:
TuxedoCat says:
Richa@HobbyandMore says:
Sarah (appifanie) says:
Helen says:
Susmitha - Veganosaurus says:
Cupcake betty says:
Helen says:
Alyssa says:
Helen says:
Alyssa says:
Subscribe by email:

Topics

Reading List

resources

cruelty-free shopping

МИР ЯВЛЯЕТСЯ ВЕГАНСКИМ! Если ты этого хочешь.