Purple potato bread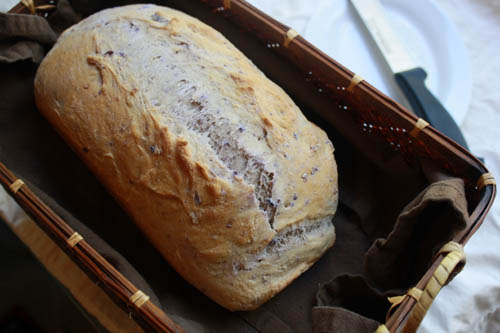 What's a another thing to do with purple potatoes?
Make purple potato bread.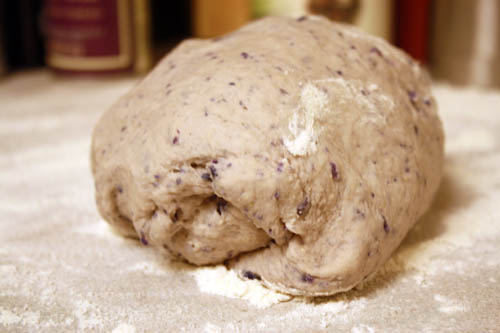 This lovely lavender dough, when baked, is perfect for pretty party sandwiches, thick-cut as French toast, or broken off in chunks to sop up stews and sauces.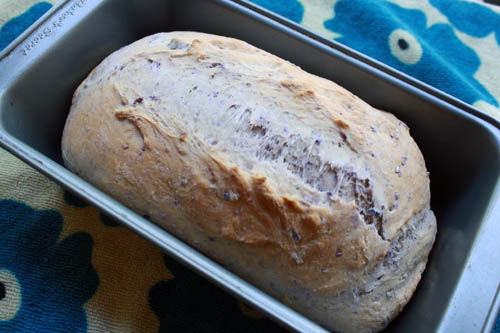 Purple Potato Bread
makes one loaf
Ingredients
3/4cups water
1/4 cup soy milk
2 TBS butter
1 tsp salt
2 TBS sugar
2/3 cups cooked purple potato, mashed
3 + 2 TBS cups all-purpose flour
1 1/2 tsp fast rising yeast
Instructions
Grease 2 bread pans – 9 1/2 x 5 1/2 inches
Place water, milk & butter in a microwavable bowl and cook until butter melts; pour into a large bowl.
Add salt, sugar & mashed potato and beat until sugar dissolves.
Add approx 1 1/2 cups of flour and beat until combined. Sprinkle the yeast over the batter and beat until yeast is thoroughly combined.
Add remaining flour.
Knead dough on a floured surface, incorporating more flour if needed,  dough is no longer sticky — a few minutes.
Grease a large bowl and place dough in it; flip dough over and let rise until doubled in size,  40 – 45 minutes.
Place in a greased bread pan, cover with damp towel and let rise again until doubled in size, 45 – 45 minutes.
Bake in a preheated 375 degree oven for 35 – 40 minutes or until tops of loaves are golden.
Remove dough from pan and cool on a wire rack.

Tags: purple potato, veganmofo
This entry was posted on Saturday, October 15th, 2011 at 4:30 PM and is filed under bread. You can follow any responses to this entry through the RSS 2.0 feed. Responses are currently closed, but you can trackback from your own site.
2 Responses to "Purple potato bread"
mallory says:
Helen says:
Subscribe by email:

Topics

Reading List

resources

cruelty-free shopping

МИР ЯВЛЯЕТСЯ ВЕГАНСКИМ! Если ты этого хочешь.