Low-fat vegan brownies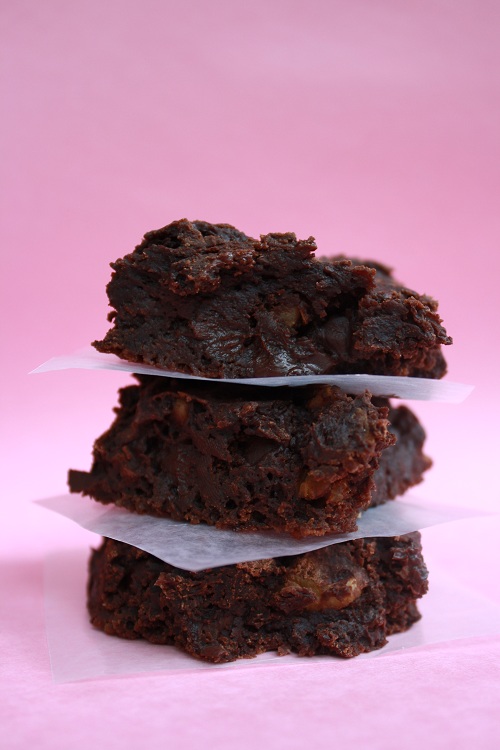 Much like adolescent girls with Twilight heartthrobs, brownie lovers fall into two camps: team fudgey and team cakey.
If you are a member of team fudgey, you will enjoy these brownies. If you fall into the cakey camp, you might want to look for an alternative dessert. Or, you can suck it up and just enjoy something ooey and gooey and chocolately, which describes these brownies pretty accurately.
If you are on a low-fat or soy-free diet, you will also love these brownies — they use no oil or egg replacer.
What do they use instead? Black beans.
So, they're actually kinda sorta good for you, in the same sort of way that Vitamin water or baked potato chips are good for you. As in, not really good for you, but not as bad as some alternatives.
I'm not going to say these are the best brownies on the face of the planet. They aren't. They lack the oily crumb that makes full-fat brownies, fudgey and cakey alike, so delicious. You probably wouldn't request these brownies as part of your last meal.
They're also sort of polarizing: some people will gobble down, like, 5 of them, while others will take a bite and leave the rest untouched on their plate — I served them at a party and this is exactly what transpired.
So why am I posting such a love-'em-or-hate-'em-recipe that even I say is not the most delicious thing since the dawn of time?
Well, mostly because I've been curious about black bean brownies and wanted to report the facts and only the facts, ma'am. And I suspect you may be curious about them too. Plus, I feel that the spirit of VeganMoFo is an honest representation of everything you've cooked — what vegans really eat.
Also, they're really good for what they are: a low-fat dessert — low fat desserts are never going to be as scrumptious as their full-fat alternatives.
Smother them in So Delicious coconut frozen dessert and hot fudge and call it a brownie sundae and you've got it made. That sorta defeats the purpose of low-fat, but increases the deliciousness factor. Or, stir them into a blended frozen banana.
I used No Meat Athlete's black bean brownie recipe using all purpose flour instead of whole wheat and walnuts instead of hazelnuts, and added chocolate chips for a little extra decadence.

Tags: black beans, brownies, chocolate, veganmofo
This entry was posted on Friday, October 7th, 2011 at 7:01 AM and is filed under beans, dessert. You can follow any responses to this entry through the RSS 2.0 feed. Responses are currently closed, but you can trackback from your own site.
5 Responses to "Low-fat vegan brownies"
MeShell says:
Helen says:
Andrea says:
Helen says:
jd says:
Subscribe by email:

Topics

Reading List

resources

cruelty-free shopping

МИР ЯВЛЯЕТСЯ ВЕГАНСКИМ! Если ты этого хочешь.