Lentil shepherd's pie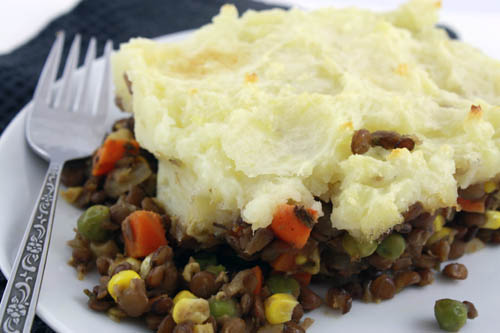 The lentil shepherd's pie served in my college dining hall was one of the first dishes to convince me that this whole no meat thing wouldn't be so bad.
Something about finding the biggest freakin' potato ever at the farmers market over the weekend, sitting comically in the bin with all of these teeny tiny little potatoes, inspired me to recreate it after all these years. (Maybe because I just made magic bars, another college treat?)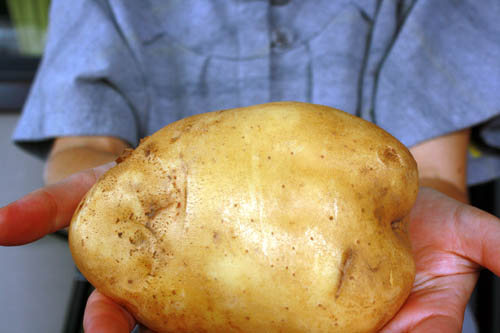 Said potato weighed nearly 2 pounds, enough to top an entire batch of shepherd's pie.
I drew inspiration from a bunch of recipes to create the perfect one, the version that most resembles my memories:
These recipes all look super tasty on their own merit, but when you have an idea in your head about what something should taste like, you disregard everything else to replicate your vision.
And heck, even with no meat AND no dairy, lentil shepherd's pie is still a darn tasty dish — comfort food at its finest, vegan or not.
Vegan Lentil Shepherd's Pie
makes 4-6 servings
Ingredients:
3/4 cup dry lentils
1 cup onion
1 cup frozen peas and carrots, defrosted
3/4 cup corn
1 tbs parsley
1 tsp sage
1/4 tsp ground thyme
2 tbs soy sauce
1 tbs vegan Worcestershire sauce
1 2/3 lb potatoes, skinned and chopped
2 tbs soy milk
1 tbs Earth Balance
1/4 tps salt
Instructions:
Boil lentils for approximately 25 minutes; drain.
While lentils are boiling, boil potatoes for approximately 20-25 minutes or until soft.
Saute onion in 1 tbs or so oil until browned. Add corn, peas/carrots, spices, soy sauce and Worcestershire sauce. Stir in lentils and let cook for a couple more minutes.
In a separate bowl, mash potatoes with soy milk, Earth Balance and salt.
Pour lentil mixture into a greased 9″ x 9″ pan. Top with mashed potatoes.
Broil for 5 minutes or until potatoes brown. Serve.

Tags: lentils, potatoes, veganmofo
This entry was posted on Wednesday, October 5th, 2011 at 8:26 AM and is filed under dinner. You can follow any responses to this entry through the RSS 2.0 feed. Responses are currently closed, but you can trackback from your own site.
3 Responses to "Lentil shepherd's pie"
smoochpanda says:
Jojo says:
JL goes Vegan says:
Subscribe by email:

Topics

Reading List

resources

cruelty-free shopping

МИР ЯВЛЯЕТСЯ ВЕГАНСКИМ! Если ты этого хочешь.