Karioka: deep-fried chewy Filipino dough balls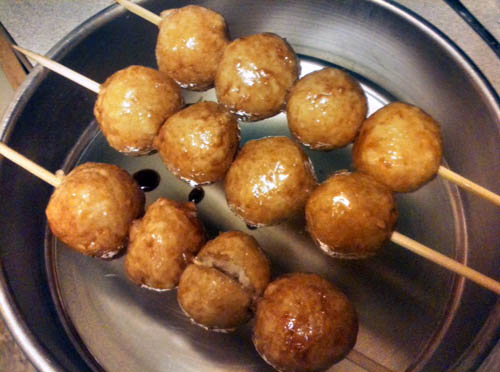 Prepare yourself for the most delicious dessert you've (maybe) never heard of: karioka (also spelled kareoka, not to be confused with karaoke, and just as fun). Or maybe karioka are old hat to you — I just assume that my thoughts and experiences reflect everyone else's in this world.
Something about deep-fried dough balls on a stick, glistening with syrup, caught my fancy one day at Uwajimaya. Looking at the ingredients, I noted that they were vegan.
Madeline shared with me a recipe from Art of Dessert, which provides a thorough and foolproof walk-through of preparing karioka. Rianne's version is crisp on the outside, chewy on the inside, with a coconut-brown sugar glaze you will want to eat by the spoonful.
I don't have a deep-fryer, but a emptying a bottle of canola oil into a deep frying pan did the trick — I'd never deep-fried before, and found it to be frighteningly easy. Hellooooo, chicken-fried chickpea cutlets!
Just be careful not to overknead the dough (this isn't seitan, folks) — this will make the insides cakier. Still delicious though.

Tags: coconut, filipino, gluten-free, karioka, rice, soy-free, veganmofo
This entry was posted on Thursday, October 27th, 2011 at 1:22 PM and is filed under dessert. You can follow any responses to this entry through the RSS 2.0 feed. Responses are currently closed, but you can trackback from your own site.
3 Responses to "Karioka: deep-fried chewy Filipino dough balls"
Sarah says:
Jes says:
tmy-osetia.ru says:
Subscribe by email:

Topics

Reading List

resources

cruelty-free shopping

МИР ЯВЛЯЕТСЯ ВЕГАНСКИМ! Если ты этого хочешь.