Green "shrimp" curry
Mom and Dad have never let me live down the time I took them to the vegan Chinese joint in my hometown. I genuinely enjoyed our meal, but them — not so much. We'll leave it at that.
Thus, I've since been wary of serving omnivores faux meat, but took a risk making a curry for David and myself with Sophie's vegan shrimp — Sophie's products were all the rage at VegFest back in March, and Madison Market recently started carrying them.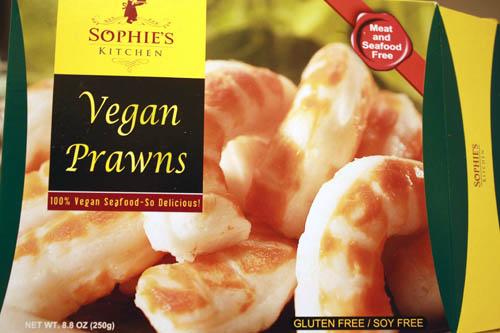 I couldn't eat these fake shrimp — the soft, squeaky texture slid past my teeth with little resistance and a kiss of slight fishiness, the type of flavor you'd find too strong in actual seafood.
Uh oh — I thought, biting into one — David's going to hate this!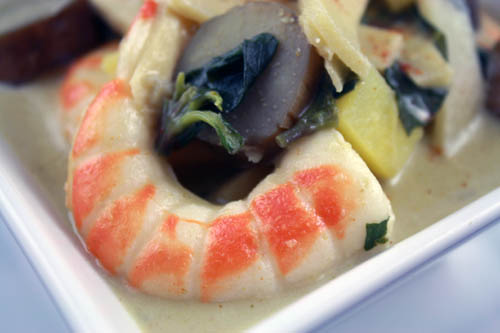 Pretty — yes. Palatable? Maybe.
David enjoyed Sophie's shrimp, surprisingly, and happily added mine to his bowl.
Whew.
So, if you're curious about Sophie and her mock crustacean flesh, give 'em a try and decide for yourself.
When I make this dish again, I'll use tofu instead — every other component was delightful: coconut milk, green curry paste, potato, Thai basil, bamboo shoots, and Japanese eggplant.
This particular Japanese eggplant and I really developed a connection. Its curves fit so naturally in my hand, like a handle, that I felt guilty about eating it. That's how vegan I am — I bond with vegetables.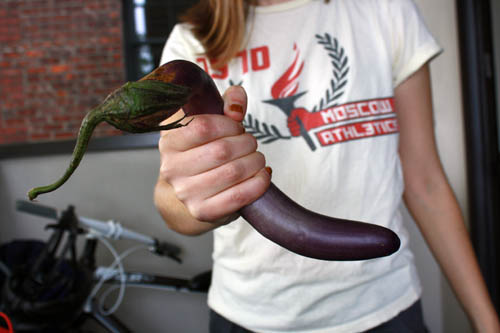 R.I.P., my sweet aubergine
VeganMoFo makes you do strange things.
Green curry
adapted from the back of the Thai Kitchen coconut milk can
Ingredients:
1 (15.5 oz) can coconut milk
2 tbs green curry paste
1 large Japanese eggplant, chopped
1 potato, skinned and chopped
1 (8 oz) can bamboo shoots
1 (0.75 oz) package basil leaves, chopped
1 package Sophie's vegan shrimp, thawed
Diced hot pepper, cayanne powder, or Sriracha sauce to taste, if you want a spicier curry
Instructions:
Combine all ingredients in a saucepan and simmer until potatoes and eggplant are cooked through. Serve over rice.

Tags: coconut, fake meat, veganmofo
This entry was posted on Monday, October 24th, 2011 at 2:23 AM and is filed under dinner. You can follow any responses to this entry through the RSS 2.0 feed. Responses are currently closed, but you can trackback from your own site.
3 Responses to "Green "shrimp" curry"
Ty/Cameraphonevegan.com says:
Helen says:
Loving Hut Seattle says:
Subscribe by email:

Topics

Reading List

resources

cruelty-free shopping

МИР ЯВЛЯЕТСЯ ВЕГАНСКИМ! Если ты этого хочешь.