Coconut Chai Rice Krispies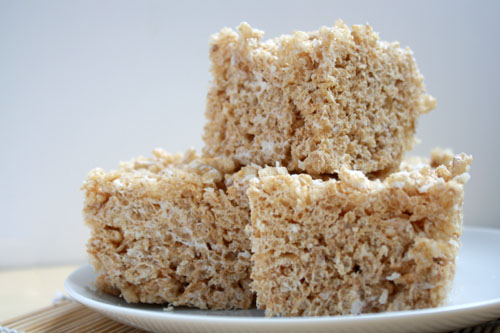 SpaBettie posted a recipe for orange cardamom rice krispie treats that I have been meaning to make for a while.
Go look at them — I'll wait. Aren't they pretty? Don't they look fresh-tasting and summery?
I am a huge, huge fan of cardamom. Teenage-girl-with-Justin-Bieber huge. Autograph-my-chest-so-I-can-later-tattoo-it huge. Malamute huge. Audaciously huge.
It's probably the best spice out there. Seriously, candle companies, please manufacture a cardamom candle so that my apartment can always smell festive and exotic.
However, the brisk air has me craving warmer flavors, and sunny oranges aren't capturing the season for me.
So, playing with the cardamom theme, I tweaked it a bit. Added other chai spices: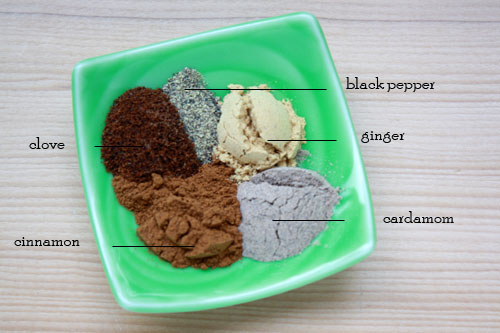 And toasted coconut.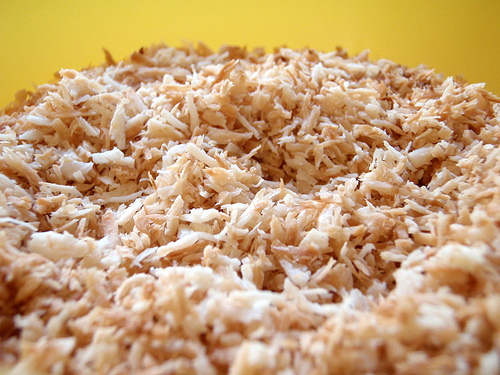 Image by Joyosity via Creative Commons
And there you have it, a cozy, easy dessert for autumn days.
Coconut Chai Rice Krispies
Ingredients:
3 tbs vegan margarine (I'll try coconut oil next time — makes more sense, right?)
1 (10 oz) package Dandies marshmallows
1/2 tsp ground cardamom
1/2 tsp ground cinnamon
1/4 tsp ground ginger
1/4 tsp ground clove
1/8 tsp ground black pepper
6 cups Rice Krispies
1/2 cup toasted coconut*
Instructions:
Melt butter in a large pot.
When butter is completely melted, add marshmallows and spices. Stir until marshmallows are completely melted
Remove from heat and stir in marshmallows and toasted coconut until completely mixed.
Press mixture into a greased 13″ x 9″ x 2″ pan (for more, shorter squares) or 9″ x 9″ x 2″ pan (for fewer, taller squares). When cool, cut into squares.
* To toast coconut, heat a dry skillet over medium heat and add coconut, stirring until fragrant and brown.

Tags: cardamom, chai, coconut, rice krispies, veganmofo
This entry was posted on Saturday, October 22nd, 2011 at 10:25 AM and is filed under dessert. You can follow any responses to this entry through the RSS 2.0 feed. Responses are currently closed, but you can trackback from your own site.
7 Responses to "Coconut Chai Rice Krispies"
celyn says:
Isobelle says:
Sarah says:
Laura says:
Helen says:
puppy training says:
Subscribe by email:

Topics

Reading List

resources

cruelty-free shopping

МИР ЯВЛЯЕТСЯ ВЕГАНСКИМ! Если ты этого хочешь.