Vida Vegan Con
Vida Vegan Con is over, and I'm walking around in a post-Portlandia daze.
As I transition back to the reality that there aren't vegan cupcakes at my beck and call, and that my friends and colleagues don't share my thoughts on nooch (or even know what I'm referring to when I say "nooch"), and that I'm not surrounded by several hundred wonderful herbivores, I'm struck by what a wonderful experience it was.
I learned that vegans come in all shapes, sizes, races, creeds, genders (yes, there are male vegans) and orientations.
There are fat vegans and skinny vegans. Old vegans and young vegans. Cat-loving vegans and dog-loving vegans and vegans who love both. Vegans from small towns and vegans from big cities. Straight-edge vegans and vegans who guzzle beer.
Vegans are librarians and school teachers and midwifes and students and yoga instructors and college professors and marketers and journalists and authors and physical therapists and regular therapists and website creators and lawyers and people who help lawyers use the Internet (hey, that's me!) and entrepreneurs and seamstresses and puppeteers and graphic designers and even Microsofties.
Some awesome vegans, like M.E. of Veganoramic View, whose conversations with me in Boston I credit for my permanent transition to veganism, were not able to make it, so I hope that I can bring some of the VVC love to them.
(Note: please forgive the excessive length of and lack of typical cynicism in this post — it's hard to be concise or snarky about something that was so fun and educational! I know, I know — being overwhelmingly positive feels weird to me too.)
The people
Jess, Janessa and Michele, Vida Vegan Con's organizers, were lovely and amazing. I can't imagine how much work went into putting the whole thing together! Thanks a bunch, ladies.
I talked with a number of fun individuals. Some I had met before, some I knew through Twitter, some were complete strangers until last week. All were incredible. All are in alphabetical order below. Couples, I know you're different people with separate identities, but… you understand.
And so, so many more.
The food
Portland has amazing vegan food, and the Con itself did not disappoint.
The feasts served at breakfast and lunch were. so. freakin'. tasty. and accommodated for a wide range of diets: raw foodists, gluten-free, fat-free, and just plain ol' vegan. I ate it all.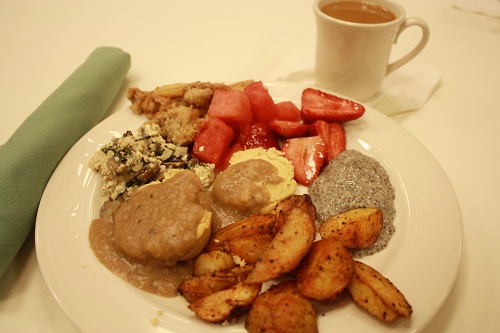 Breakfast on Saturday morning figuratively (not literally — I knows my English) blew me away. Roasted potatoes, biscuits and white bean gravy, fresh fruit, gluten-free pancakes with maple syrup, So Delicious coconut yogurt (including the yet-to-be-released Greek-style yogurt (!), which I woefully did not try), peach cobbler, and the shocking weekend favorite (if the Twitters prove anything), chia seed pudding.
Seriously — chia seeds. So hot right now.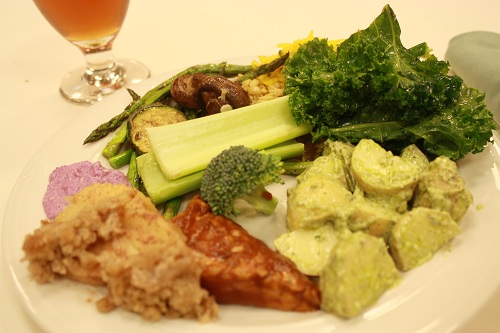 Lunch was equally scrumptious, an all-American array of pesto potato salad, BBQ tempeh, kale massaged with oil and lemon, golden beet salad, purple cauliflower hummus, roasted veggies, and more peach cobbler, paired with cool iced tea.
Breakfast on Sunday was more of the same as the first — my one and only teeny little complaint about the food — but it was so good that no one really cared that it was a repeat.
I sort of skipped the Mexican buffet on the second day, having made plans to visit Unicart, which was closed, and then D.C. Vegetarian, which was closed, and then finally Homegrown smoker.
I write "sort of skipped" because did sample the soy curls, raw chorizo, Upton's Naturals chorizo, vegan Queso and a generous helping of guac before heading out.
Glutton.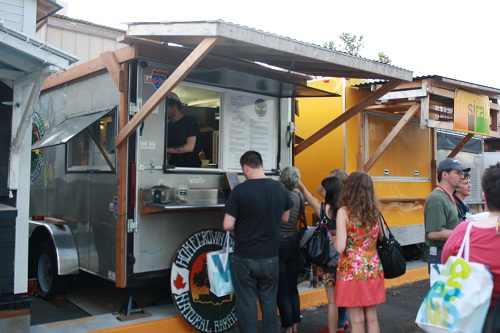 Finally, a brief ode to the one and only Food for Lovers' Queso, my personal favorite discovery:
Oh, my sweet Queso,
Your cheesey taste is so fitting,
That, gee, don't you know,
I'll eat half a jar in one sitting.
The parties
Happy hour at Vendetta kicked off the weekend. Vendetta has a lovely back area with seating, plants, a fire pit (maybe?) and gravel, creating a very zen-like atmosphere — I am truly surprised none of the lady vegans in their high heels spent the rest of the weekend in ankle braces.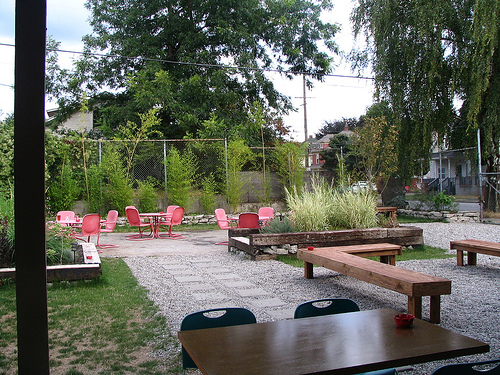 image by vj_PDX via Flickr Creative Commons
I saw people with vegetable tattoos and shirts from Herbivore, so I figured I was in the right place and took a spot in line for the bar. The trio in front of me seemed to know each other, and were talking about Highline in Seattle, so I butted in "are you here for the vegan conference?" And that's how I met Bethany, Traci and Patrick, and that pretty much started the weekend off.
Vida Vegan Con officially opened with a VegNews-sponsored champagne and cupcake reception. Attendees mixed and mingled and munched and tippled. Heidi Ho organics served cheeses, and I heard my fellow con-goers exclaim how awesome it was to actually eat from a cheese plate in public. These cheeses were soft and savory and not at all fake. Maybe you could ship some up to Sidecar, Heidi?
Finally, Galarama on Saturday night. I regret I did not take more pictures, because everyone looked just so darn cute. Here are some people dancing.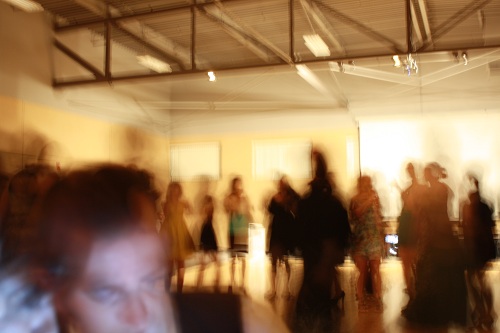 Vegan bodybuilder Robert Cheeke also did some dancing.
I got there a little late (I will spare the details of my iPhone charger saga), and made a beeline for the beverage table, which segwayed into the buffet. The line snaked past the silent auction table, giving attendees the opportunity to sip their drinks and check out the merchandise (including Traci's adorable crocheted headphones!) being auctioned off to benefit Woodstock Animal Sanctuary.
What did we eat? Pizza from Sizzle Pie; sliders, Gardein fingers, spring rolls and veggies from The Vegan Caterer; and a sundae bar. Yum.
The Panels
I attended the following panels, and took detailed notes, which I have included below. I am waaay too lazy to type out who was on each panel, so I will refer you to the agenda on the conference website. However, I learned so much from my fellow attendees as well.
I do regret not attending a cooking class — especially the meringue class. The opportunity to learn from someone like Fran Costigan or Hannah Kaminsky was really a once-in-a-lifetime opportunity.
Biggest takeaways:
Bad vegan food is bad for the movement.
There are tons of vegan blogs: determine what you want yours to be and stick with it in order to stand out.
Activism is what you make it — it could be protesting or leafleting or just preparing and sharing delicious food.
Build-a-blog
The panelists were so well-prepared — this was one of the few panels with visuals — and it was an energizing way to start the weekend.
You can have more than one blog — maintaining multiple blogs takes more time, but allows you to stay consistent in your message.
Stay on topic; even if you mention your kid's birthday party, make it about the food.
Wordpress is a great platform for customization.
Facebook owns all of your content — be careful about what you post there.
Photos add visual interest to a blog.
If you're serious, invest in your blog — a professional design or theme goes a long way.
Tag posts to keep messaging consistant.
Ways to get noticed: Vegan MoFo!, guest posts, product reviews, promotional materials, SEO buttons/stickers, product giveaways, directories (PR professionals use Cision).
The best SEO? "Write. Write consistently. Write often."
Comment on other people's blogs for traffic.
Participating in Flickr photo groups can drive traffic.
Make sure you have your contact information on your blog! A privacy policy and disclaimer are also nice.
When thinking of a custom domain, remember that a good name doesn't make a good URL.
Nutrition
Gena at Choosing Raw wrote a great post summarizing this panel (which she was on) — I was incredibly impressed with her poise and honesty, though the whole panel, plus the moderation, was truly a highlight of the weekend.
Talk to people on their own terms and own standards – tell people how much protein in beans, nooch, etc.
People assume everything at whole foods is healthy. Simplest, whole foods in their wholest form are healthy.
A big mistake that vegans make is to be too restrictive and eliminate healthy foods – doesn't think that vegans should strive to eliminate fats. Olive oil makes it easier to stick to and share vegan diets. If you aren't gluten intolerance, you can eat gluten. Creates and image of vegan diets that makes them look difficult.
To you walk the line between sharing nutrition and promoting, offer good plant-based food — you're not going to change anybody.
There are a variety of ways to actively promote veganism. You can leaflet, write good recipes, share, etc. Ginny's activism is to help vegans be healthy — we're not dropping dead, and once folks know that the food is good, they can think about how animals suffer.
For Gina, activism resides in stuff she was scared to talk about when she first started blogging. She writes candidly about eating disorders – by talking about it, you can set a positive message. "Activism lies in tackling the things that are hard to talk about and doing it in a responsible way."
Few people approach raw moderately. People feel they need to do it completely – even if not 100%, talking about percentages.
Raw food doesn't have anything to do with veganism — one is a way to prepare food, other is worldview. Saying that "raw is veganism" will exclude people.
Some compounds not released when cooked, but others do release when cooked (and with fats). As diet style, there is not research to support the health benefits of a raw diet.
Don't dehydrate anything. If you want bread or lasagna, eat bread or lasagna.
Moderation is key.
There is a lot of evidence that diets based on whole plant foods (less sugar and alcohol) prevent and reverse chronic diseases, but weight control isn't understood very well, and we don't have evidence that 100% vegan diet is more effective than 95% vegan diet to reverse heart disease.
In terms of organics, follow the dirty dozen list, and everything else if you can afford it. In terms or organic meat, 'organic' doesn't mean 'well-treated,' so equating 'organic' with 'vegan' isn't always helpful.
Calories and breakdowns on labels are okay, but look at ingredients too.
"If it has a label, think of an alternative" – shop in bulk.
The essential supplement is B12. Need to consume foods fortified with B12. Others not that different from what omnivores get. Everyone over 50 needs it.
Vitamin D – fortified foods for all, and cows milk is not a natural source of vitamin D.
Iodine – cow's milk is contaminated with it. The natural version is veggies from iodine rich soil. Take supplements or use iodized salt.
The panel is currently obsessed with: hemp, grains (Wendy mixes together a big pot of grains for the week while Brianna mixes quinoa and bulger in a rice cooker), and scrambled tofu.
Isa asked about the "oil thing." What's the best way to deal with it? Ginny's answer (to applause): "keep cooking with oil." Olive oil and other monosaturated oils help heart health.
Accidental journalist
Grammar, punctuation, spelling and capitalization contribute to your style. It doesn't matter what you do, but consistency is key.
Language changes. You will not keep up, but neither will your readers.
voice creates familiarity
Talk about one thing in a paragraph and move on. Look at paragraphs after you write. Transitions help.
If something is abrupt, call yourself out on it. Be self aware in your writing and people will find it charming.
Length: the longer it is, the less likely someone is to read it. A longer piece is great if you have a lot of info.
Look at each sentence – get rid of extra words. (ex: "in order to" – get rid of "in order")
Personal stories are okay. It's about extraneous words, not lack of information
You are the blogger – your readers will come back for you. Keep readers by being you – they will search for topic is they need topic, but will bookmark your blog if they like you. There are tons and tons of vegan blogs – need personality behind it.
You don't want readers to read a post and say … "so what?" Keep that in your head. Why would somebody across the country care about a local restaurant? You can make them care. Was restaurant run well? Did you try to recreate a dish? Was is run well? Is it part of a new trend? Is it part of something larger? Make people care about it.
If you have recipes, find your own format. If it's something complex, pay attention to documents and stick to it. List ingredients in order they are added.
If doing a restaurant review, include hours, location, website, etc.
When you push the publish button, you are publishing. You've shared opinions. Are you doing something unethical or illegal? Think about how your words are taken. Word them so that people know it's your opinion — you could have the power to shut down a restaurant!
Recipes are a big issue — you can't just take a recipe and post it, though it's okay if you link to something else.
Changing one thing very slightly does not make something your recipe. Need to dramatically change a recipe to make it your own.
Well established blogs welcome submissions for posts. They'll edit your stuff, and you'll learn about writing.
Don't send magazines full pieces – send a query letter pitching a story to them. Find out editor's name – shows that you've done more research. Most magazines don't accept unsolicited pieces.
Local papers may be interested in freelance writers — there are opportunities to get out there.
Publishing is not a growth industry. Magazines are great target. Always looking for a great voice and someone cheap. Don't confine yourself to veggie magazines.
Things to watch for:

ly – no hyphen after. An assumed hyphen.
Passive voice – no passive voice
There is and there are – nominalization, but turns a verb into a noun. Recast.
Dangling participle – "after rotting in the cellar, my brother brought up some oranges…"

Read aloud before hitting publish; walk away for an hour or sleep on it and reread
Test links before publishing; when in doubt, look it up – check if you're not 100%.
Consistency is key. Will stop is not consistent – it's lazy. Make sure you cover everything you wanted to in a post. Have somebody else read it. Make sure names are spelled correctly.
Avoid all caps, bolding and italicizing for emphasis of key points – you're treating the reader like a total idiot.
Quotation marks should not be used to stress something
Interview other people if they will improve your blog.
Dating and mating
My favorite quote from this was, "as soon as veganism becomes associated with tattoos and a certain type of lifestyle, we've failed." This controversial statement resonated with me; stereotypes hurt our community by making others feel as if they couldn't belong, even if they wanted to.
I also loved the point that the most convincing vegans are the one who are subtle about their views. They earn omnis' trust, and become more credible for doing so.
The panelists were all Portlanders or New Yorkers and all were dating vegans. While each panelist was candid, funny and interesting, I would have appreciated a more diversity in location — it's easy to meet vegans in Portland and NYC, but not everywhere — and in lifestyle of mate — I live with an omnivore.
I had some open conversations with Julia about this while driving around on Thursday night, and with Megan, Dan and a fellow named Johnny at lunch on Saturday, and with Chrissie at the Galarama. They all took a view closer to mine: it's hard enough to find someone you really connect with, so don't rule people out just because of what they eat. It would be great to date/live with/marry a vegan, but it's more important that they're someone you respect and care about.
The Good, the Bad & the Ugly — the marketing panel (aka "how to market your blog and not be an asshole")
Write a statement of what you will and will not do. Be honest about who you are: the person people meet IRL needs to be the same as the person on your blog.
Your marketing should be an extension of your actual personal skills
You're not going to catch everyone with social media marketing efforts
If most of your followers only follow a few people, don't tweet to often. Otherwise, tweet at a frequency that won't annoy you.
Create multiple twitter accounts to focus on specific topics that will directly interest your audience.
Create a reason for people to follow each account — don't post duplicate content on Twitter, Facebook, etc.
You are already a brand, even if you aren't trying.
Don't fake interest — a shallow comment is worse than no comment at all. Never say "check out my blog."
Social media is about being social.
It's all about relationships — you can connect with readers over personal things like pets.
Never auto DM. Always reply. Manage your time. Don't tag photos unless it's the actual person.
Don't start marketing until you have content to market — have at least 8-10 posts first.
Cross promote your social media accounts.
If you're going to retweet something (esp. a compliment about your blog or brand), add your own comment and flavor.
Extreme Food Writing Makeover
You all have your own style and way of speaking — what is your food writing style
Ask yourself: Why do you blog? What differentiates your blog? Does my writing reflect my personality?
Food is a sensual, 3D thing
Show, don't tell – don't assume a reader knows what you're talking about.
Imagine they've never tasted what you're describing (not – "this nut is delicious")

taste, see, smell, touch, hear – feel
◦ paint a picture for the reader, cook a meal, recreate an experience

Verbs – get specific

easiest thing to do to improve writing.
Eat: nosh, chew, chow down, gobble, savor, inhale, devour
avoid "is" or "are"
to cook: prepare, whip up, create, concoct, bake, fry, saute, broil, etc.

Adjectives are like accessories

get more specific and get rid of delicious, awesome, etc. (e.g. delicious brownie vs. orgasmic brownie)

Adverbs are like MSG – overused, and sometimes necessary, but usually not. Think of more descriptive ways to describe things
Make words up! ("I Jackson Pollacked the icing.")
Word counts

make it focused and brief
ask yourself what is this post about? Should be 150-300 words

Blog makeovers
don't wander, get off topic, or assume (i.e. what feta tastes like)
Product Reviews and Ethics
Be positive, especially if it's an non-veg restaurant — encourage them to serve vegan options.
However, bad vegan food is bad for veganism — be positive in reviews, but do not give unrealistic expectations about a product's or restaurant's quality.
Take photos to show what you're eating — turn the flash off if you can, but leave it on if it's flash or nothing. The Camera+ iPhone app is a good option. Put a napkin in front of the flash to diffuse it, and take home leftovers to control lighting. Ask for a seat by the window
In your review, mention any connections to the place or if the food was comped. Don't feel obligated to give it a good review if you got it for free.
Price is relative — if you think its integral to the post (like at a really expensive restaurant), mention it. Otherwise, the price could turn away non vegans.
Admit when a product just may not suit your tastes.
Review a variety of brands.
You can reach out to brands to ask for samples. They may ask for pageviews, but the So Delicious representative said that she looks more for engagement.
Ask for vouchers instead of products — makes it easier on the companies.
Show photos of products in and out of packaging.
This panel didn't give me all the information I was looking for on a few topics, so I asked around on areas that I felt were lacking.
Andrea reviews cookbooks frequently, and told me her take as we waited for the train back to Seattle. She says that she looks through the cookbook (how long is it? Does it have pictures?), gets a feel for the recipes (are they easy to cook? Do they require a lot of hard-to-find ingredients?) and tests some to how they turn out. She's honest if the content doesn't fit her particular tastes or style. She also noted that if you contact the publisher of the book, they may allow you to post a recipe or two — readers love recipes.
Publishing
I definitely snuck into this one after it had begun, with cheeze sauce and a guilty look on my face, soooo I missed some stuff. But is was still good.
Non-vegan cookbooks can serve as inspiration
Internet means short attention spans: keep videos short
The stigma associated with self-publishing is gone
You can make more money self publishing, but have to promote yourself more.
Get an agent. See who's being thanked in your favorite cookbooks. Make sure your agent is really someone you want to work with — it can be a career-long partnership.
You can't just pitch an idea to a publisher — you need to put together a whole proposal, including marketing, recipes, and the competition. Prove that you are the expert — a blog can help with this.
"If you put yourself out there, people are going to say horrible things about you."
Facebook ads are a great way to promote your self-published book
Think beyond cookbooks — could you write a children's book that isn't extreme but teaches a lesson?
Your Blog sucks: opinionated bloggers
"If you're any good at all, you're going to piss some people off."
Don't pay too much attention to comments
Provide readers with interesting information — links to articles and news.
Put your own spin on things
Stay concise, to the point, and generally interesting: don't target people who agree with you.
Tweak a piece to fit your audience.
We are a community — we need to have criticism and strong opinions to keep us strong, and there is room for all kinds of people in it.
there's a difference between good criticism (i.e., what you see as wrong) and bad (i.e., someone's physical attributes)
Satire is a force for social change — a "back door crusade"
Remember, people are more likely to say mean stuff about you than positive, so don't get discouraged.
This entry was posted on Thursday, September 1st, 2011 at 8:16 PM and is filed under Uncategorized. You can follow any responses to this entry through the RSS 2.0 feed. Responses are currently closed, but you can trackback from your own site.
9 Responses to "Vida Vegan Con"
Subscribe by email:

Topics

Reading List

resources

cruelty-free shopping

МИР ЯВЛЯЕТСЯ ВЕГАНСКИМ! Если ты этого хочешь.