Vegan food at Safeco field
Peanuts and Cracker Jacks may both be vegan, but one cannot survive a ballgame on snacks alone.
Sure, you could bring food in (according to Safeco's MLB site, "Food brought into the ballpark must be wrapped, bagged or inside a container. Items such as apples and oranges must be quartered.") but you would be missing out on a quintessential piece of the American Dream: paying too much money for a one-way ticket to Diabetesville while watching a game that, frankly, runs about 5 innings too long.
Here are my suggestions of what to eat while watching the Mariners lose win (on occasion), based on all both of my visits this summer.
The Natural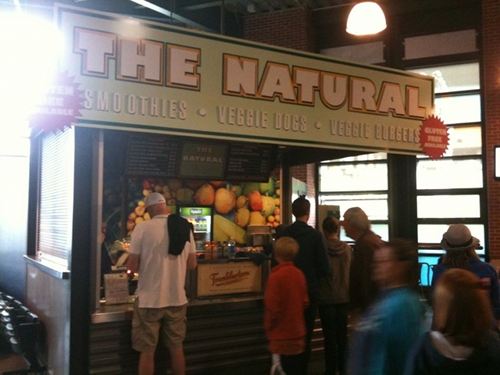 The Natural is located at section 132 in the back of a small food court. The line was incredibly short (I waited longer to get condiments than I did for my dog) and reasonably priced: a smallish veggie frankfurter only put me back $4.50. They also offer vegan soup and a vegan veggie burger (both $7-ish, I think), and have a couple of vegan and non-vegan gluten-free options (including gluten-free beer).
Blazing Bagels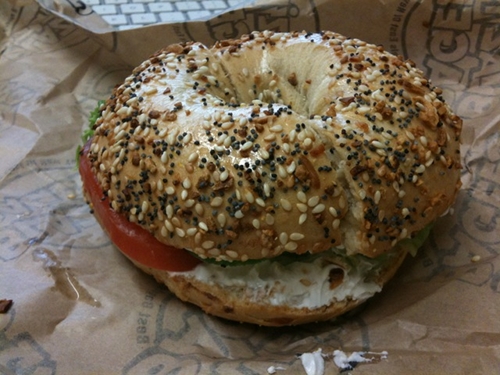 I walk over to Safeco sometimes during the work week for a toasted everything bagel with tofu spread, tomatoes, lettuce and capers from Blazing Bagels, and their bagel sandwiches are absolutely worth the walk. It's technically not in the stadium, being on 1st ave S at street level, but is directly adjacent to the entrance and open on game days, so it's an easy pre-, post- or during game stop.
Ricenroll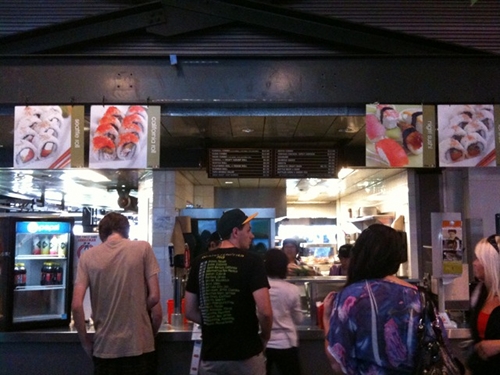 Safeco is probably the only ballpark in America where you can get sushi, mainly because Ichiroll sounds much better than Matsuzakaroll or the Takahashiroll. Actually, I don't anything about the sushi presence in other stadiums, but thank your vegan stars that you can get overpriced fake Japanese food in Seattle's. Ricenroll is in the same food court area (section 132) as The Natural, and has a few options. I wanted the tofu noodles, but they were out at that particular game, so I settled on 8 pieces of cucumber avocado sushi (at a rate of $1.13/piece). $4 edamame is another possibility.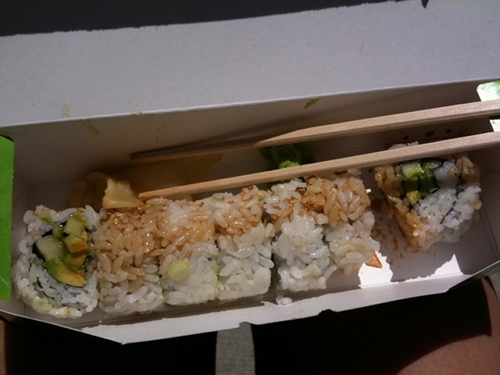 Note: the box is not completely sealed, so don't pour your soy sauce into it unless you want a lapful of the stuff.
I also saw someone walking around with chips and guac, and there are always the garlic fries, which are super-tasty/addictive and quite handy if you happen to be at the game on a bad date or seated next to a vampire. Mmm… garlic fries.
And don't forget the beer.
This entry was posted on Monday, August 15th, 2011 at 4:06 PM and is filed under restaurants, travel. You can follow any responses to this entry through the RSS 2.0 feed. Responses are currently closed, but you can trackback from your own site.
4 Responses to "Vegan food at Safeco field"
Taylor says:
Helen says:
2013 at 4:44 am says:
Subscribe by email:

Topics

Reading List

resources

cruelty-free shopping

МИР ЯВЛЯЕТСЯ ВЕГАНСКИМ! Если ты этого хочешь.