Portland dining adventures
Portland is to vegans what Bangkok is to pervs: a mecca. Only instead of underage prostitutes, Portland offers a plethora of tasty vegan dining, boozy vegan drinking, and materialistic vegan shopping, because, hey, no sales tax.
The Rose City has a reputation for being the hippie little sister of Seattle (Wikipedia says it has 583,776 residents, making it only slightly smaller than Seattle's 600,000+) but it really feels more like an oversized northern Northern California town: friendly and still a little rustic, despite its cosmopolitan attitude.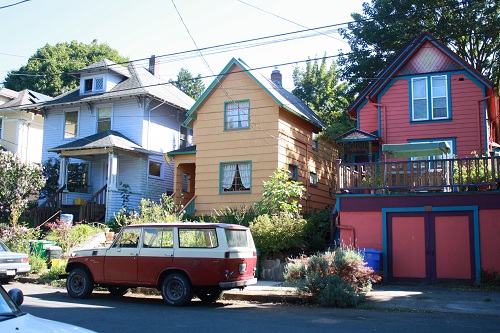 I was down there for Vida Vegan Con this past weekend (note: this is not my official Vida Vegan Con wrap up post — that's coming later this week), and found Portland to be very bike friendly, both in attitude and in landscape — it's relatively flat in comparison to Seattle. I recommend either renting a bike or bringing one along; Amtrak allows you to bring a bike (for an extra $5), and I happily pedaled through the city on mine.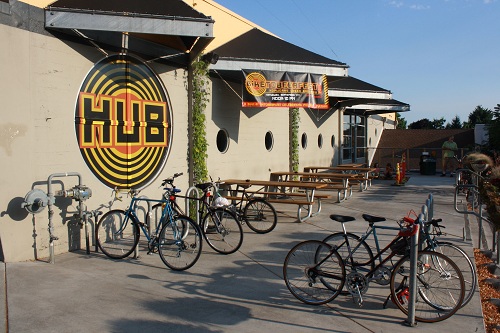 Portland has a reputation for being very tolerant ("keep Portland weird," man!), and it probably would have been even weirder had Burning Man not taken all the raver kids down to the desert on the same weekend as my visit. This didn't stop me from seeing a small child with dreadlocks, about a million interesting tattoos, some crazy bikes and a coyote, which kinda freaked me out because I was on my bike, with lots of flesh exposed to canine carnivore teeth.
It's a cool, hip city, and the people who live there know that it's a cool, hip city, and therefore they are cool and hip, and this self-consciousness somehow makes it a little less cool and hip (though it's still pretty cool and hip).
But I had a really really really good time and would probably move down there in a heartbeat (I mean, if I had a valid reason to) so that I too could be cool and hip and eat amazing vegan food all day.
And on that note, on to the amazing vegan food.
Hungry Tiger Too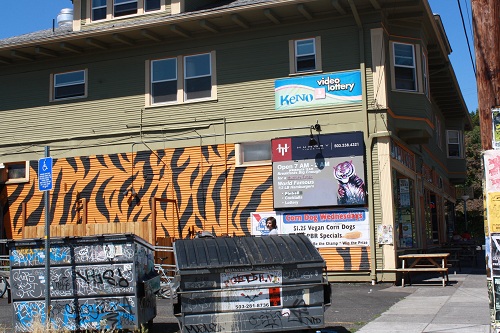 Hungry Tiger Too (207 SE 12th ave) isn't purely vegan, but has an extensive vegan menu and makes a mean vegan Bloody Marry (sic), heavy on the pepper and celery salt while still letting the tomato flavor shine. The restaurant has a main dining room, with bluish murals on the wall, a bar covered in red fleur-de-lis wallpaper displaying the happiest tiger painting ever, and a shaded deck. I sat in the bar.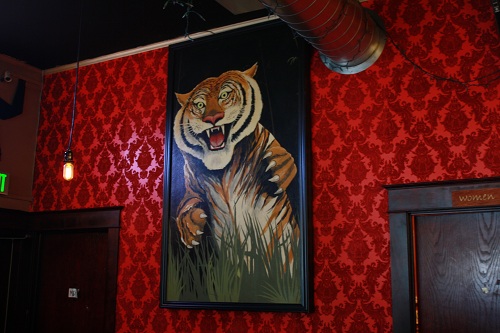 After finally ordering a drink and finally having a menu brought to me, I waffled between the tofu strips, the corn dogs with tots and the Belly Rocker, a vegan bacon cheeseburger with smokey tempeh bacon and a noochy cheesze sauce on a Boca Burger. I went with the Belly Rocker, because I had vegan bacon cheeseburgers on the brain ("one vegan bacon cheeseburger, two vegan bacon cheeseburger").
The burger was so sloppy-delicious that, after they finally brought my meal out to me, I forgot that it was actually just a dressed up Boca patty. My one regret is that I went for coleslaw instead of upgrading to tots — I heard they were crispy and amazing.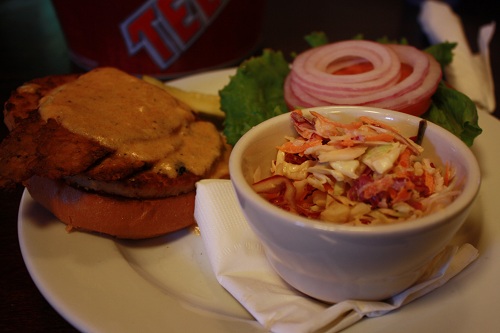 I learned from the reviews panel at Vida Vegan that you shouldn't slam a restaurant's service or food based on one visit, so I won't slam, but I will gently say that the service I experienced on this particular Thursday afternoon around 2 p.m. was quite slow. There was only one waitress working, and while she was very friendly, there were several instances where I almost threw down some cash and walked out. I don't blame the waitress, since one person can't serve all, but I don't understand why she was the only one working — I felt more or less forgotten sitting in the bar.
Again, this was just one visit, though Yelp reviews seem to concur.
Sweet Hereafter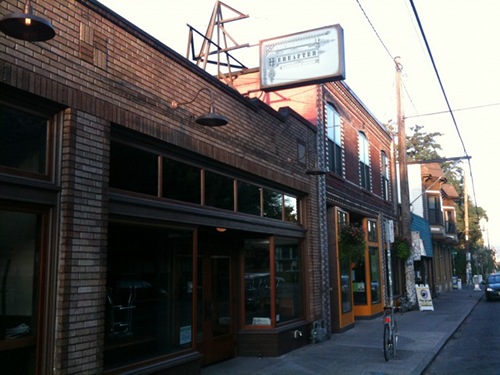 Sweet Hereafter is a vegan bar on Belmont (3326 SE Belmont St), and was coincidentally just 6 or 7 blocks from the Hawthorne hostel, my lovely home for the weekend. Sweet Hereafter is a charming wood-paneled institution that plays its music a tad too loud but is otherwise a the ideal hangout; one Yelper called it a dive, but I thought it was actually quite classy, with unfinished wood paneling and candles. I don't think there was an ugly face in the crowd of hip, young Portlanders.
I first visited with Julia and Bethany on a Thursday night around 8:30 or 9. I ordered the buffalo sandwich, a delicious, spicy monstrosity of soy curls (with the awesomeness of soy curls being one of the biggest takeaways of the weekend), buffalo sauce, ranch dressing, some sort of cheesy drizzle, and enough lettuce and tomato to make you not completely hate yourself.
My meal's height and girth made it very difficult to eat: I couldn't get my mouth around it from any angle, so after a couple of nostril's full of fiery buffalo sauce, I decided to nibble at the top layer with my fork and then eat the rest. My lips might still be burning, but it was deeeelicious. My dining companions were shocked that I ate the whole thing, but I couldn't let the sandwich win.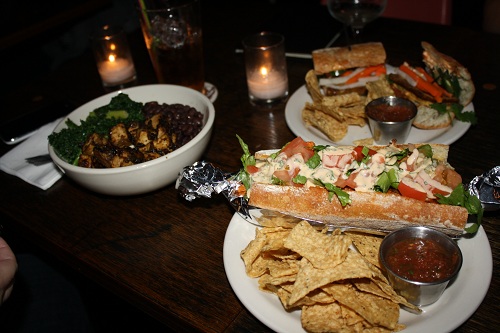 Julia ordered a carribean-style kale, black bean, jerk tofu and rice bowl and raved over it – she shared a piece of the tofu with me, and it was spiced to perfection with clove and other Jamaican spices. It was so good that I ordered the dish the following night when I returned with Molly and Megan, and I loved the spicy coconut kale (and how the coconut sauce saturated the rice. Nom.) Bethany ordered the tofu Bahn Mi, which looked quite tasty but had spicy jalapenos.
My one complaint about the food is that Sweet Hereafter serves their sandwiches with chips and salsa. While the salsa was fabulous, fresh and cilantro-y, chips and salsa as a side screams "we don't have a deep fryer!" — gimme fries! Gimme tots!!
I also ordered a Sazerac on Thursday evening, and the drink had a more impressive preparation (the bartender misted the glass with absinthe) than outcome (I couldn't taste any hint of the misted absinthe). I didn't get a drink the following evening due to excessive thirst (it was hot and we walked a long way), but regret not doing so.
Despite not being very crowded, we had to wait a bit to get the bartender's attention on the first evening (Thursday around 9), and Bethany's food arrived much sooner than Julia's and mine. It took a while to bring out the food on the following night (a Friday around 10) but the bar was packed, so this is no shocker.
Voodoo donuts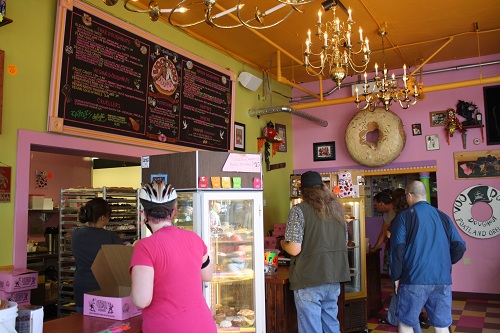 Is there any better waist-expanding Portland tradition than Voodoo donuts (22 S.W. Third Ave. or 1501 N.E. Davis)? They sell both vegan and non-vegan donuts in a variety of flavors and shapes. Fun fact: you can also get married there.
The inside is small and the decor sort of gives me a creepy Stephen King vibe, like maybe they just make donuts in the back, and maybe they also perform black magic rituals — I dunno. You can get a child-sized coffin full of donuts for $100, so perhaps this feeling isn't completely rooted in paranoia.
The line at Voodoo Donuts is notoriously long, though when I arrived around 9 a.m. on Friday morning prepared to wait, only two couples stood ahead of me. Two. This was perhaps the boldest stroke of luck I experienced on the whole trip, because every other time I've walked past it the queue snaked far out the door.
I ordered the vegan voodoo donut because, as they say, when in Rome, eat the most artery-clogging option available.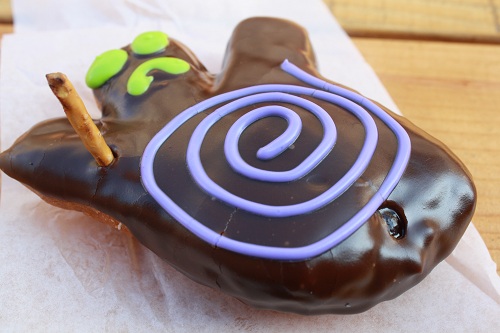 The vegan voodoo donut is a massive chocolate-covered jelly-filled deep-fried delight in the shape of a little man, pierced by a pretzel pin, which I consumed on one of the picnic benches outside — there is no indoor seating, which suited me just fine on a sunny summer morning.
I polished off his head first, then an arm, then the other arm, then devoured his gooey abdomen, then stared in shock at the brown and red on my hands and cried "WHAT HAVE I DONE????"
The combination of chocolate, raspberry jelly and yeasted vanilla dough is quite rich, but definitely manageable for one person in one sitting provided that this one person has decided to forgo all dietary decorum and dignity. I felt like a pig after finishing my donut, but a contented, happy pig — a pig that has been allowed to freely roll around in the mud on a sanctuary.
Prasad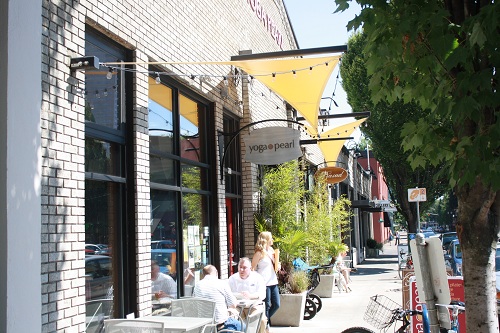 Prasad occupies the same space in a Yoga studio (925 NW Davis) that Blossoming Lotus formerly held. Visitors may be disappointed to discover that Blossoming Lotus is no longer there, but may exclaim "Blossoming what?" after sampling Prasad's offerings. Those looking to detox after scarfing down a Voodoo donut for breakfast will find this place particularly appealing.
The menu is actually quite similar to Blossoming Lotus' — a variety of macrobiotic bowls and live dishes, with juices and other healthy new-agey stuff. As much as I don't fit the tattooed, pit bull-owning, punk rock-listening vegan stereotype, neither am I a yogini. I hate yoga. It makes me fall down. I achieve zen through a glass of scotch, not contorting my body into a pain pretzel.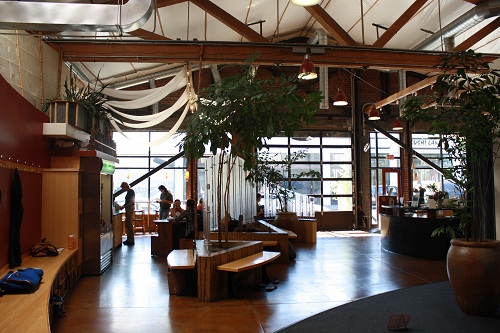 But, regardless, the food is incredibly nutritious and meticulously prepared. I also think that omnis (using my mom as my extremely scientific sample group) are a lot more likely to eat a dehydrated flax cracker than a soy curl, so it makes a good place to share a spiritual lunch with a non-vegan friend.
I ordered (and highly recommend) the Feisty Tostada: "(raw) jalapeno cashew cheese, fresh spinach, avocado, tomatoes, scallions & green chili sauce on pumpkin seed pesto raw crackers, served with a side of hot sauce & yam rice salad with garlic tahini dressing."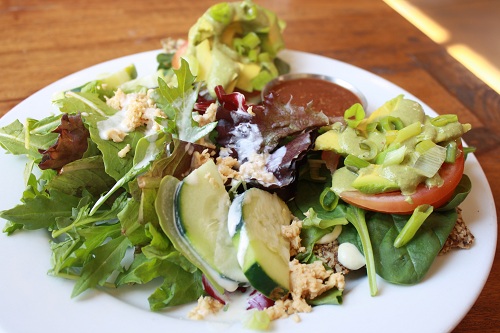 It came with a side salad, which I didn't really notice wasn't the main meal until I finished it and noticed two savory crackers with veggies and a spicy sauce sitting on the plate. (Seriously, when you have a cocktail before noon, as I like to do on vacation, you may forget what you've ordered between paying and eating.) The salad was fantastic, and so were the tostadas themselves.
Blossoming Lotus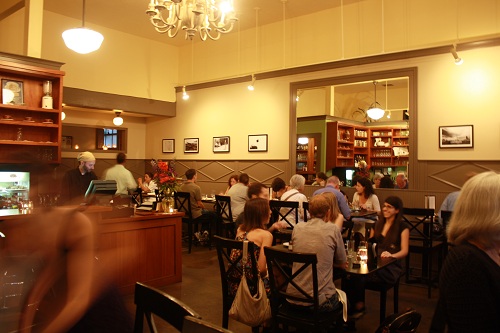 If its old space was hippie-dippy, Blossoming Lotus' new location (1713 NE 15th Ave) is upscale and date night classy. Nine of us went on Sunday evening after saying our goodbyes at the Con.
Having ingested my weight in faux BBQ from Homegrown Smoker for lunch, I wanted something fresh and light. Something alive.
I went with the Live Taco Salad, an enticing mix of tender lettuce, fajita-sliced peppers, onions, tomato, avocado, cilantro and "spicy nacho chips" with creamy cashew dressing. I ate it all.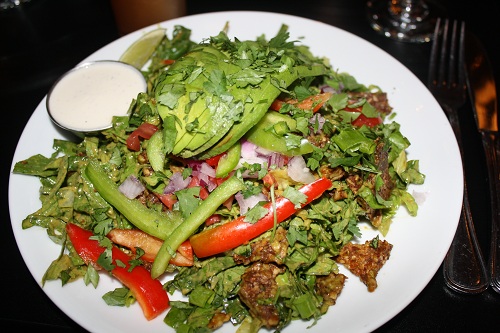 Andrea ordered a Thai salad with soy curls.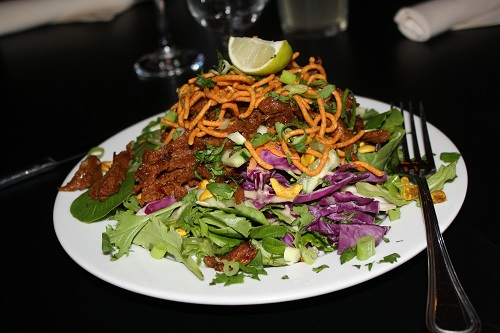 Others at the table went for various bowls.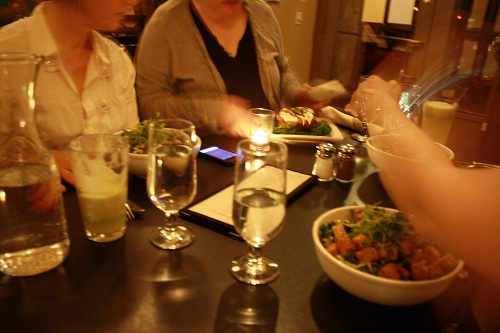 We all cleaned our plates. Not pictured: amazing coconut cake with raspberry filling.
Sweetpea Baking Company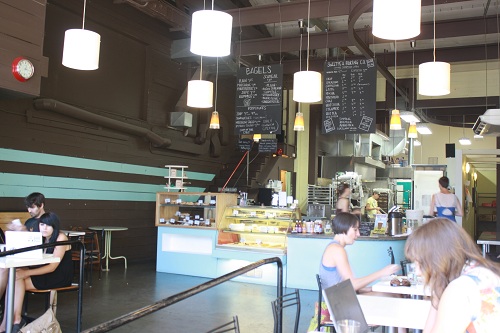 I visited Sweetpea Baking Company (1205 SE Stark Street in the Vegan mini mall) twice: on my first day for a chocolate cupcake with raspberry icing and on my last day (*sniff*) for breakfast. They also made cupcakes for Vida Vegan Con's welcoming reception; I ate the oreo variety.
The cupcakes were delicious, though tasted pretty similar to VCTOTW's chocolate recipe (not that this is a bad thing). The icing didn't leave a greasy film on the roof of your mouth like some frostings do, definitely a positive.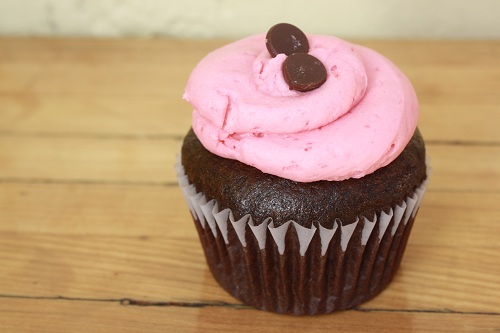 For the last breakfast in Portland, I ordered a sesame bagel with bacun and scallion schmear and a hazelnut milk latte. OHMYFREAKINGOD did I enjoy this meal.
The schmear wasn't too thickly spread, but was the savory bacun and sharp scallions provided so much umph to the toasted bagel.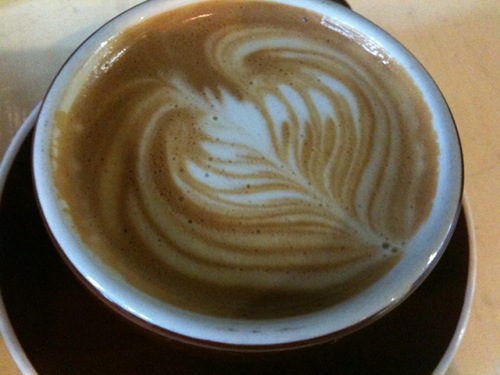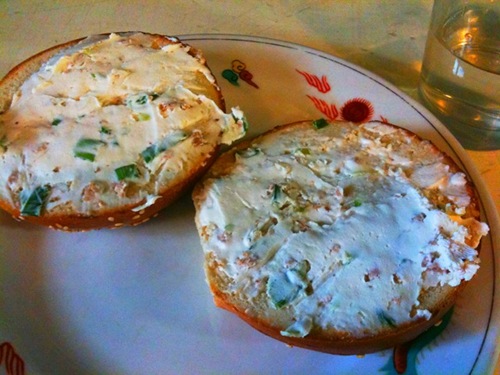 Foodfight!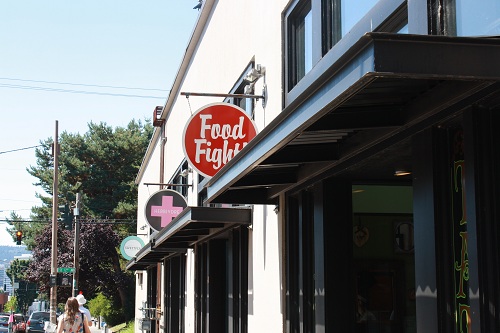 Foodfight! is Portland's all-vegan grocery store, and is right by Sweetpea at 1217 SE Stark St. It has a ton of packaged vegan products, soy curls in bulk, things like bandaids and lip balm, ready-made wraps and sandwiches (and awesome Blossoming Lotus raw zucchini bowls), a plethora of fake cheeses, stickers, and more.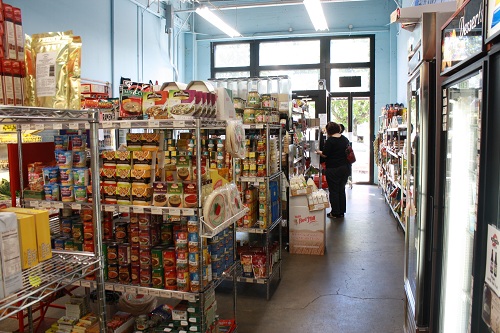 The best thing I picked up there was a Level 5 sticker, for all of us who won't eat anything that casts a shadow.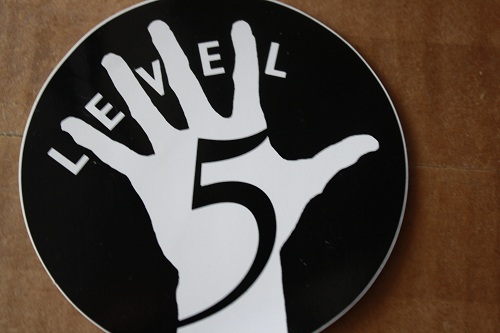 What — you don't pocket mulch?
Red and Black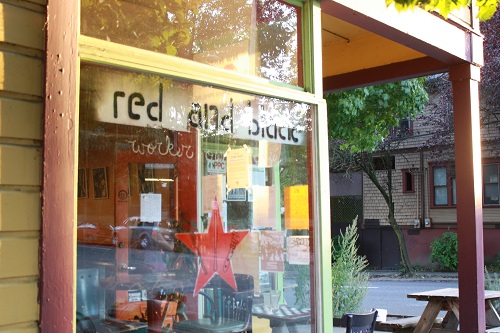 Bethany recommends the sandwiches at this worker-owned vegan anarchist cafe around the corner from the mini mall (400 SE 12th Ave), though all I had was a strong cup of pour-over coffee (since it was a hot day, coffee wasn't selling, so they hadn't brewed much) and half of a Monkey Wrench chocolate chip cookie (they're really big) at around 7 p.m. on Sunday evening.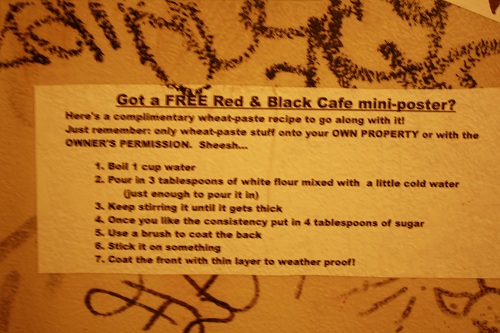 When I returned the following morning with Bethany, Andrea and Ken to pick up lunch for the train (I bought mine at Food Fight!), the proprietor of Monkey Wrench was making a delivery and chatted with me for a few minutes.
He (Steven) runs the business entirely himself, renting space in a community kitchen 2 days a week and delivering his goods by bike to a variety of places around Portland — his fixie has a cart hooked up to the back. He's been doing it for about four years, and is able to make enough money to live, which was one of the many inspiring stories I heard on my trip.
Living the dream, Steven!
Homegrown Smoker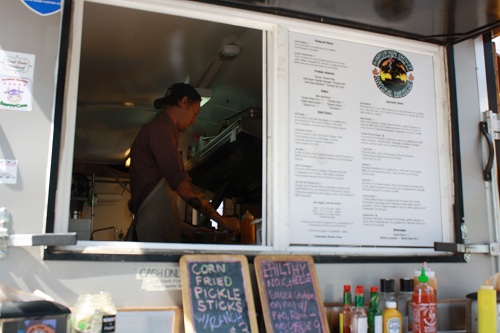 I visited Homegrown Smoker with Traci and Patrick after an attempt to dine at Unicart and then D.C. Vegetarian backfired — who knew that most food carts close on Sunday? Not us, apparently.
The Vida Vegan Con organizers really pushed this food cart, located conveniently near the hotel at SW 4th and Hall, and I all must say is… bring a friend — the portions are immense and greasy and damn fine eats.
Now, let me put something into context for all you who have never been to the Pacific Northwest: Portland food cart culture is strong. Jean Claude Van Damme strong. Cheap bar strong. Fran Drescher's New Yawk accent strong. Mormon presence in Utah strong.
Strong.
Unlike food trucks in other cities, Portland food trucks are largely stationary and clumped into groupings called "pods." Observing the activity surrounding food carts makes for a fascinating anthropological study into the behavior of the residents of Portlandia.
I ordered the sampler: two proteins (Tempeh ribs and BBQ soy curls) and two sides (coleslaw and mac no cheese), plus gluten-free cornbread. Now, I finished a lot of meals that I'm not proud of on the trip, but this one defeated me. Too. Much. Food.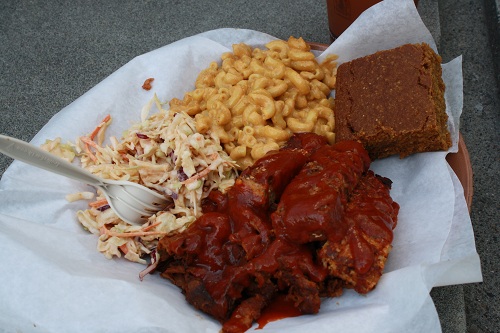 The tempeh was a little dry and the gluten-free molasses cornbread wasn't my cup of tea, but I loved everything else, from the sweet, savory and spicy soy curls to the creamy coleslaw to the decadent mac no cheese.
We ran into these two nice kids from the Bay Area who were in Portland for the summer. The male of the couple ordered a Philly no cheese steak, and the cute skinny blonde guy behind the counter threw in some deep-fried oreos.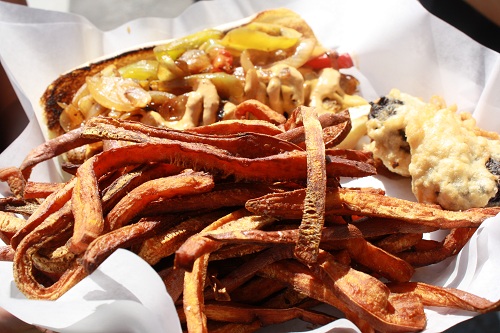 Patrick also ordered the Philly no cheese steak, with a side of deep fried pickles for Traci. She shared one of these battered gurkins, dipped in ranch, and it was hot, salty and crisp, with the slightest bit of briney tang.
Here's a gratuitous bucket of chili cheese fries for your drooling pleasure.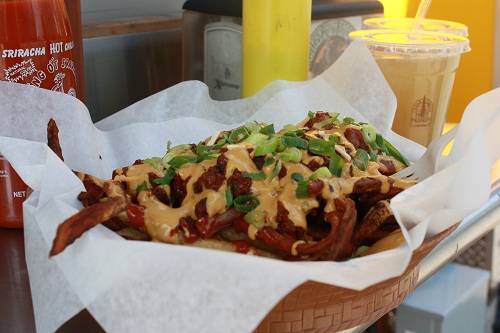 More
Alas, alack — there is never enough time. I deeply regret that I did not get to:
Now, back to the grind.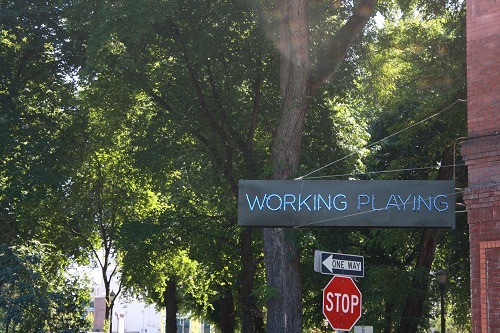 Tags: Blossoming Lotus, Food Fight!, Homegrown Smoker, Hungry Tiger Too, Monkey Wrench, Portland, Prasad, Red and Black, Sweet Hereafter, Sweetpea Baking Company, Voodoo Donuts
This entry was posted on Tuesday, August 30th, 2011 at 11:11 PM and is filed under travel. You can follow any responses to this entry through the RSS 2.0 feed. Responses are currently closed, but you can trackback from your own site.
15 Responses to "Portland dining adventures"
Tofu Mom (Marti) says:
joanna says:
Julia says:
Janessa says:
Gena says:
Helen says:
Helen says:
Helen says:
Helen says:
Helen says:
Jess says:
Helen says:
Neil says:
Andrea says:
Subscribe by email:

Topics

Reading List

resources

cruelty-free shopping

МИР ЯВЛЯЕТСЯ ВЕГАНСКИМ! Если ты этого хочешь.