The best vegan Bloody Mary ever.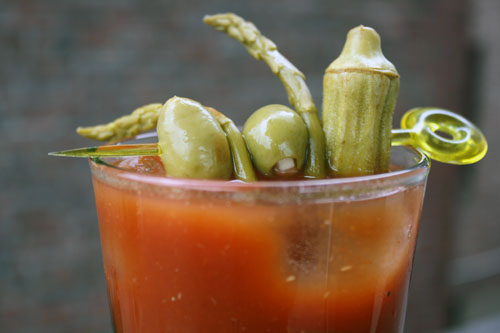 Brunch is the best.
Too late for breakfast but too early for lunch? Brunch.
He want pancakes, she wants sandwich? Brunch.
Want to start drinking before noon? Brunch!
Yup, brunch is the only socially-acceptable way to consume alcohol before you've even put food in your system, and Bloody Mary's are my favorite way to do so.
However, most Bloody Mary's are not vegan — they're made with Worcestershire sauce, which typically contains anchovies. So, you're limited to drinking Bloody Mary's either at 100% vegan bars or at home.
I love Highline's Bloody Mary (though it's super spicy), and set out to create my own signature version, with a little guidance from my cocktail-aficionado pal Brian.
The elements of a great vegan Bloody Mary are as follows.
Vodka is key. You don't need great vodka, or anything other than plain vodka, but you do need a hefty dose of the stuff. Brian says, "avoid the flavored vodkas, and just get your flavor through ingredients."
Soy sauce or tamari add a hint of umami richness.
Vegan Worcestershire sauce also bestows a depth of fifth-sense flavor to the drink. Most Worcestershire sauce is not vegan, though the cheapo QFC brand is.
Ground horseradish gives the drink an earthy spiciness. My dad makes homemade horseradish from the plant in my parent's backyard that is supposedly descended from one of his dad's plants, so I'm a little biased towards it. However, most ground horseradish found in the condiment aisle is also not vegan — many contain eggs. Kosher horseradish is dairy and egg free, and it's certainly possible to find just straight up ground horseradish (though the stuff QFC sells in the refrigerator aisle near the cheese never seems to be properly sealed), so look for that.
Lemon juice pairs really well with tomato and horseradish — the classic cocktail sauce trifecta. It brightens the mixture a bit.
Pepper– simple and classic.
Celery is nice, but Pickled vegetables make a classy garnish– and the garnish makes or breaks a Bloody Mary. I adore the pickled green beans with which Highline garnishes their Bloody Mary, but pickled green beans are very hard to find. QFC and Madison Market only sell pickled okra, pickled asparagus, and… pickles, so I asked Brian where to find pickled green beans. He tipped me off to DeLaurenti in Pike Place Market, which has a fantastic selection of pickled veggies, including green beans. I like Mama Lil's Lilibeans– they're a spicy take on dilly beans and have nice crunch.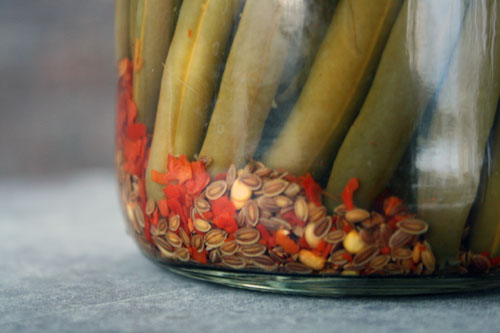 Garlic-stuffed olives: because they're literally the best edible substance on earth.
Low sodium V8: have you checked the sodium content on regular V8 or tomato juice? Shocking.
Here's how to make one.
Place vodka, ice cubes, a couple dashes of soy sauce, a generous dash of Worchestershire sauce, a half-tsp or so of horseradish, a generous sprinkle of black pepper, a splash or two of lemon juice, and a dash of Tobasco sauce (if you really want a kick) in a pint glass; fill with V8.
If you're a serious cocktail aficionado, place all in a cocktail shaker and shake. If you're not, just sort of stir.
Garnish with pickled veggies.
Drink. Enjoy.
Tags: bloody mary, brunch, cocktail, horseradish, pickled green beans, soy sauce, tomato, v8, worcestershire sauce
This entry was posted on Sunday, April 10th, 2011 at 8:20 AM and is filed under beverages. You can follow any responses to this entry through the RSS 2.0 feed. Responses are currently closed, but you can trackback from your own site.
2 Responses to "The best vegan Bloody Mary ever."
Sarah says:
Helen says:
Subscribe by email:

Topics

Reading List

resources

cruelty-free shopping

МИР ЯВЛЯЕТСЯ ВЕГАНСКИМ! Если ты этого хочешь.