Vegan Czech Goulosh and Dumplings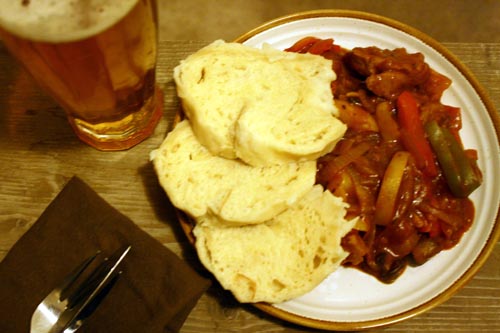 Goulash is most commonly associated with Hungarian cuisine, but paprika-heavy meat stews are popular throughout Central Europe. The Czechs eat them with spongy sliced dumplings (knedlicky) to soak up the sauce.
On my recent trip to Prague, I ate a wonderful seitan version at the vegetarian restaurant Maitrea. While I was looking forward to trying the dumplings, the kitchen instead substituted rice, as their dumplings (like most) had eggs and milk. Their goulash was delicious with the rice, but I craved chewy, soft bready goodness.
Here is my recreation of that meal, complete with knedlicky. And beer, of course. This meal makes enough to serve 4 very hungry Bohemian peasants after a day in the fields or 6 bourgeois city folk.
Vegan Czech Goulash (adapted from Spicie Foodie)
serves 4-6
16 oz seitan
2 tbs tomato paste
1 tbs vegetable oil
1 tsp no-beef bouillon
3 small bell peppers (red,yellow and green), sliced thinly
3 garlic cloves, minced
1 small onion, chopped
2 cups chopped mushrooms
2 tbs ground sweet paprika
1 tbs ground caraway seed
1 tsp marjoram
1 tbs soy sauce
dash vegan Worcestershire sauce
2 tbs flour
2 cups water
Brown the onions and garlic in the oil. Add the mushrooms and cook until mushrooms begin to soften.
Add the Seitan and peppers and saute for a few minutes.
Stir in the remaining ingredients except for flour and water; cook a few more minutes.
Add the water and bring to a boil.
Remove a few ladles of broth and mix with the flour to form a roux; pour into pan and stir until mixture thickens.
Vegan knedlicky– bread dumplings (adapted from Cooks.com)
serves 4-6
1 package yeast
1/2 tsp sugar
1/4 cup lukewarm soy milk
egg replacer for one egg (1 tbs egg replacer+ 3 tbs water)
1/2 tsp salt
1 cup lukewarm soy milk
3 cups flour
1-2 slices of bread, cubed (I used 1/2 of a La Brea demi baguette)
Combine yeast, sugar, and 1/4 cup lukewarm soy milk in a small bowl; let sit for 5 minutes or so.
In a large bowl, combine the egg replacer, salt, remaining soy milk and yeast mixture. Gradually incorporate flour. Stir in the dumplings.
Knead for 5 minutes; dough will be elastic.
Cover and let rise for 1-2 hours or until doubled in bulk.
Divide dough into two pieces and knead each a bit. Shape into oblong loaves.
Place loaves in a pot of boiling water, cover, and boil for 25-30 minutes. Loaves will expand as they cook.
Remove dumplings from pot with a slotted spoon or tongs and allow to cool for a few minutes.
Slice and serve.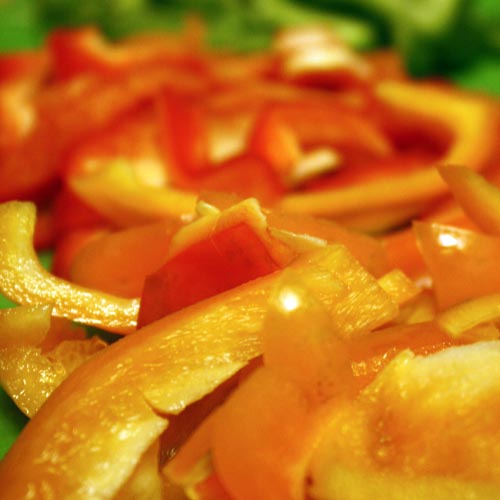 This entry was posted on Wednesday, October 6th, 2010 at 8:21 PM and is filed under dinner. You can follow any responses to this entry through the RSS 2.0 feed. Responses are currently closed, but you can trackback from your own site.
2 Responses to "Vegan Czech Goulosh and Dumplings"
Subscribe by email:

Topics

Reading List

resources

cruelty-free shopping

МИР ЯВЛЯЕТСЯ ВЕГАНСКИМ! Если ты этого хочешь.