Coconut zucchini bread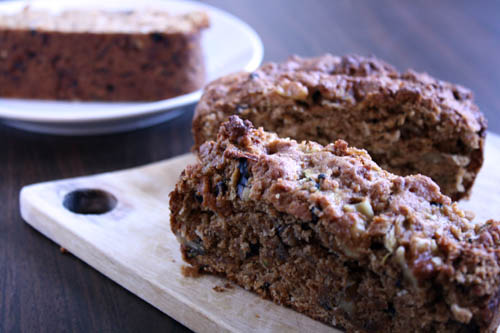 It all started with a discussion of dung.
In September, the Woodland Park Zoo sells the scat– zoo doo–  that its animals produce throughout the year. This factoid, of course, was too bizarre not to share in the office chatroom.
Kelly mentioned that her neighbor used zoo doo in his garden. And that her parents might be able to use it in their garden. And that their garden had produced more vegetables than they could eat.
I said I knew someone who could take those vegetables off of her parents' hands.
The next morning, a zucchini the size of my cat (the little guy, not the grumpy old woman) mysteriously appeared on my desk. How could I ever eat such a behemoth in its entirety?
With David departing for a family road trip, a ceramics class potluck, friends coming over to watch the Emmys and my always-hungry coworkers, zucchini bread seemed like an ideal solution.
But with a twist.
The coconut oil, coconut palm sugar and shredded coconut in my pantry transformed standard zucchini bread into a magical fusion between simple Americana and a tropical breeze. When the batter proved too dry, a small can of coconut milk pulled through to create a moist, not-too-sweet quick bread.
And yeah, Kelly, the zucchini yielded 6 loaves. There's one on your desk.
Coconut Zucchini Bread
makes 2 loaves
2 cups grated zucchini
2 cups palm sugar (or one cup granulated sugar and one cup palm sugar)
1 (5.5) oz can coconut milk
1/2 cup applesauce
1/2 cup coconut oil
2 mashed bananas
1 tsp vanilla extract
2 1/2 cup flour
1/2 cup coconut flour
2 tsp cinnamon
1 tsp ground ginger
2 tsp baking soda
1/2 tsp baking powder
1 tsp salt
1 cup shopped walnuts
1/2 cup currants
1/4 cup shredded coconut
Preheat oven to 350 degrees and grease 2 9″x5″ loaf pans.
Combine zucchini, sugar, coconut milk, applesauce, coconut oil, vanilla, and mashed bananas in a medium bowl.
Combine flours, ginger, cinnamon, baking soda, baking powder and salt.
Add wet ingredients to dry and mix until just combined; stir in walnuts, currants and shredded coconut.
Pour into greased pans; bake for 50-55 minutes.
This entry was posted on Sunday, August 29th, 2010 at 9:29 PM and is filed under bread, breakfast. You can follow any responses to this entry through the RSS 2.0 feed. Responses are currently closed, but you can trackback from your own site.
Comments are closed.
Subscribe by email:

Topics

Reading List

resources

cruelty-free shopping

МИР ЯВЛЯЕТСЯ ВЕГАНСКИМ! Если ты этого хочешь.