The kombucha controversy
After marveling at the kombucha selection at my local Whole Foods a few weekends ago, I was shocked to hear that the chain is pulling the drink from its shelves. A trip to the refrigerator aisle at the Broadway QFC determined that this chain too is no longer selling my favorite safe-for-work fermented beverage.
Why? Apparently, it's not so safe for work after all.
The reason for the removal is "concerns over slightly elevated alcohol levels." The labels of most kombucha brands say the beverage  may contain 0.5% alcohol, while in reality it may be higher– kombucha can measure into the 3% ABV territory, putting it slightly below light beer in terms of alcohol content.
The fact that the beverage has alcohol in it isn't as troublesome as not knowing how much; vanilla extract and cough syrup contain a greater, though known, quantity.
For diabetics or pregnant women, I can see how this might cause concern. Diabetics need to be careful with alcohol to avoid hypoglycemia, and, obviously, pregnant women should teetotal so as not to harm the fetus.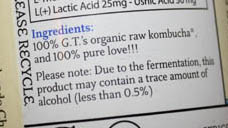 As a healthy non-pregnant female, I have never felt any alcoholic effects or seen my performance decrease when enjoying kombucha. In fact, the invigorating acidic tingle has served only to remove the fog of sleep deprivation and heighten my productivity. I have noticed that sore muscles experience the same relaxing sensation drinking kombucha as drinking beer, but my mental state remains lucid. Plus, I'm a confirmed beer drinker, so… a little alcohol doesn't bother me in the slightest.
However, some rumors suggest that kombucha may be a hepatotoxin: a substance damaging to liver tissue. This scared me enough to investigate further.
According to Medical Toxicology, the yeast-bacteria combination is indeed associated with vague "liver injury." However, while the tome cautions that kombucha may cause damage for people with preexisting health concerns, it also states that kombucha may not cause damage for healthy people. (Dart, 2004, p. 1749)
Some of the toxicity claims may need to be taken with a grain of salt. The article "A Case of Kombucha Tea Toxicity" published by the Journal of Intensive Care Medicine states,  "In this study, we present a case of severe hyperthermia, lactic acidosis, and acute renal failure in a 22-year-old male within 15 hours of Kombucha tea ingestion."  This 22-year-old male in question just happened to be HIV-positive; the friend he shared the bottle with experienced no health issues as a result of consuming kombucha. Lactic acidosis can be a result of liver failure, and some HIV medications can contribute to liver problems themselves.
Much of the concern surrounds homebrewed kombucha, not the bottled stuff. As kombucha is acidic, brewing it in ceramic or crystal can cause lead to leach into the liquid. In addition, if equipment is not properly sanitized, invading bacteria can cause illness, much like home canning can cause violent reactions if the equipment is not properly sanitized. It's like gin: the stuff made at home in a bathtub may cause blindness, but chances are your eyesight is safe with a bottle of Gordon's.
Well, what about the acidity? A study done by researchers in the Netherlands showed that Kombucha has antimicrobial properties, though suggests that if kombucha is fermented too long, it can cause dangerous levels of acid. The study then mentioned that "the pH decreased from 5 to 2.5 within 6 days of fermentation and remained stable thereafter." Lemon juice has a pH of 2.3, meaning kombucha can't be that dangerous. Just don't get it in your eyes.
From everything I'm reading, these cases of toxicity seem like isolated incidents. A letter to the editor in a 1995 issue of Annals of Emergency Medicine states, "the American Association of Poison Control Centers has received one report [italics my own] of possible hepatotoxicity associated with use of the Kombucha." The man had hypothyroidism and fibremyalgia, and was drinking a cup a day of the homebrewed stuff.
Even if kombucha doesn't live up to its purported health claims, it's tangy, sweet and delicious. If you are not pregnant, diabetic or HIV positive, it doesn't seem like there is much harm in drinking professionally-brewed kombucha in moderation. And at nearly $3 a bottle, I'm guessing you already drink it in moderation.
This entry was posted on Sunday, June 27th, 2010 at 4:41 PM and is filed under opinion. You can follow any responses to this entry through the RSS 2.0 feed. Responses are currently closed, but you can trackback from your own site.
2 Responses to "The kombucha controversy"
Subscribe by email:

Topics

Reading List

resources

cruelty-free shopping

МИР ЯВЛЯЕТСЯ ВЕГАНСКИМ! Если ты этого хочешь.